Life is a journey, not a destination – be patient, work hard and be proud of yourself!
We sat down with Employability Project Co-ordinator, Rhian Noble, and spoke about how everyone has the power to define their career journey and there can be more than one path to success. The outcome? A compelling career story that shows that it won't be easy, but it will definitely be worth it.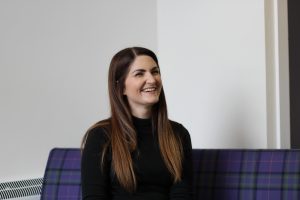 Did you pursue further or higher education?
Once I finished secondary school, I started a Beauty Therapy NVQ level 2 course at Gower College Swansea alongside a part time role at a beauty salon, helping me gain some experience relevant to my qualification. Following 2 years at college, and after completing my level 3 qualification, I went on to start full time work. This is where my career story begins!
What direction did you take post-education?
At the end of my level 3 course at Gower College, I went into a full time beauty therapy role at Glamorgan Health and Racquet Club. I worked there for 4 years before being headhunted to support with the launch of a new clinic opening in the area called Oaktree Parc. I was really excited about this new opportunity, and I loved being involved in building a brand new business from the ground up. I worked really hard in my new role and my willpower and determination paid off as I quickly progressed to Assistant Manager. This was a new challenge for me but one that I threw myself into; I was really passionate about the training and development of staff and I got involved in any way I could. I really enjoy watching people make progress and gain confidence in their ability, and my enthusiasm for training and CPD is something that has only intensified throughout my career journey.
How has your career journey developed?
I went on maternity leave from Oaktree Parc to have my first son and I returned to the role on part-time hours for 2 more years. I left this role to become a Teaching Assistant at a local Welsh Primary School, supporting children from nursery up to Year 6. At the same time I also started working as a part time Lecturer and Assessor in Beauty and Holistic Therapies, as well as studying for my PGCE. This was a really busy time for me; balancing work and home life was incredibly difficult, but this is undoubtedly where I started to grow in confidence and believe I could build a successful career for myself (whilst juggling my young family!). After studying for my PGCE, I started my first role with Gower College Swansea as a Lecturer in Beauty and Holistic Therapies. This role offered me a huge range of opportunities and I was involved with vetting and monitoring work placements, supporting with work-based learning, in-work assessing and providing employment related support and advice to students looking to secure roles within the beauty industry. This role gave me my first experience of providing employability support, and I was interested in learning more about the sector and the range of provision available to young people at the start of their career journeys.
Did your career direction change after having children?
Whilst pregnant with my 3rd child, I interviewed for a Career Coach role at Better Jobs, Better Futures as I felt it was time to fully focus my energy into one fixed role and build a career with security for myself and my family. I was absolutely delighted when I secured the role, and I felt like this was the start of an exciting new chapter for me, both personally and professionally. The coaching role allowed me to use my transferable skills and experience of providing support in previous roles, and I hit the ground running, trying to learn as much as I possibly could about the field of employability. I love to learn so this was a brilliant time in my career which I look back on with really fond memories. I was really pleased when I was asked to support new staff with their integration into the role; this gave me the chance to put my training and teaching experience into practice, and I absolutely loved being a mentor to my new colleagues. I was also given the opportunity to complete a level 4 Advice and Guidance qualification, and this gave me valuable knowledge that I knew would help drive my career forward.  After 2 years as a Career Coach, an opportunity came up for an Employability Project Co-ordinator, and I just knew I had to go for it. I had come such a long way in such a short space of time, and I was really keen to see just how much more I could do, and what I could achieve! I knew I was in the most supportive environment to reach my potential, and I wanted to put my new skills, experience and qualifications into practice. I was absolutely over the moon when I found out I was successful.
I'm so grateful to work for an organisation that supports working mums to fulfil their potential and achieve their goals, whilst maintaining a healthy work/life balance. My family are so important to me but I didn't want being a mum to put a hold on my career. Work gives me an identity other than just 'mum', and this sense of independence is so important to me. Work makes me feel valued in a role outside the home, and I feel empowered that I am able to grow a family and a successful career at the same time.
Is there one thing you wish you'd known when you were younger?
One thing I wish I had been taught throughout my time in education would be the basics of job applications. It is so important to know how to effectively read a job description and pick out the essential details so you can successfully match your skills and experience to the requirements. Employability skills are vital, and I wish I had known earlier how to identify my transferable skills to produce better applications. I am really glad that I am now in a position to pass on my knowledge to those starting out in their careers, or those wanting a change at any stage of life. It's never too late to learn and make positive changes for yourself, so I try and focus on what I know now and how I can use this knowledge to help other people.
Top tip when applying for jobs?
My top tip would be don't rush! Set proper time aside to work on applications, take plenty of time to proof read what you've written and don't be afraid to ask someone to read over it for you; asking for help is a sign of strength, not weakness, and the more help that you get the more likely you are to produce a fantastic application that will get noticed by the employer. It's also really important to research the company you are applying to and find out about their culture and values; making sure these match up to your own helps you decide whether you are a good fit for the business and if the business is a good fit for you – it's not just one way, there needs to be a balance.
What is your ultimate piece of advice?
Put yourself out there – doubt kills more dreams than failure ever will! Lacking confidence and feeling nervous are normal parts of the application and interview process but you have to give it your all – talent and skills will get you through the door but character will keep you in the room. Stay true to yourself and your values; being honest and respectful is one of the easiest ways to build trust and a positive relationship with any employer. Believe and trust in yourself first, and the rest will follow!
https://employability.gcs.ac.uk/wp-content/uploads/2021/03/Rhian-Pic-scaled.jpg
1707
2560
Better Jobs, Better Futures
https://employability.gcs.ac.uk/wp-content/uploads/2020/07/employability-x2.png
Better Jobs, Better Futures
2021-03-17 10:46:21
2022-06-28 10:21:34
Rhian Noble