After completing our Futures Academy, a programme for Gower College Swansea A' Level learners seeking alternative options to higher education routes, Jacob has secured an amazing Level 6 Digital & Technology Solutions Degree Apprenticeship with Jaguar Land Rover!
In discussing how he found the Futures Academy and how the team supported him to secure his new role, Jacob said: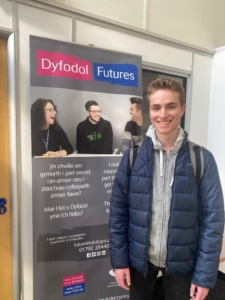 "Being part of the Futures Academy has significantly helped me to secure my degree apprenticeship in Software Engineering at Jaguar Land Rover. Firstly, I have had an increased understanding of the various types of apprenticeships and the options available to me. The academy increased my awareness of the range of different employers hiring and the type of candidates they are looking to recruit. As a result, being part of the academy has been a great support to me in my job search and provided me with the general background knowledge and understanding to help me secure my role.
I have found the 1-2-1 support throughout the entire process to be invaluable in helping me to secure my apprenticeship. At the start of the process, I had never made a CV, and had only briefly ever thought of making one. The CV template I was provided with, as well as the support through meetings with the team, helped me to understand the role of a CV and provided me with the knowledge necessary to produce a competitive document. Subsequent meetings were also instrumental in helping me to refine and improve my CV to stand out from the crowd.
The academy also greatly helped me by carrying out short mock interviews to help me understand what the real interview experience would be like. The mock interviews greatly improved my confidence in my abilities and helped me gauge my competence level and progress. These practical sessions also helped me identify areas to work on, such as my tendency to speak too quickly and rush through information. I am grateful for the interview support I have received as this undoubtedly helped me gain offers from multiple companies where I attended in-person interviews and was able to perform to my maximum potential.
A big thank you to the team, especially Sarah and Julie, with whom I had most of my interactions. I have found the whole team to be friendly and encouraging, which helped encourage me to apply for competitive apprenticeships. The team have always been eager to help me succeed; for example, when one company invited me to an interview with just a few days notice, the team made sure to arrange a mock interview practice session to calm my nerves and boost my confidence. It is without doubt that their support has been fundamental to my success."
Securing this role is a huge achievement and Jacob is very excited to start his new apprenticeship in September. Congratulations Jacob – we are so proud of you!
To find out more about our Futures Academy programme, contact us at futureshub@gcs.ac.uk
https://employability.gcs.ac.uk/wp-content/uploads/2020/07/employability-x2.png
0
0
Better Jobs, Better Futures
https://employability.gcs.ac.uk/wp-content/uploads/2020/07/employability-x2.png
Better Jobs, Better Futures
2023-04-24 09:29:06
2023-04-24 09:30:17
Congratulations Jacob!