Carving out a career in hospitality – Jasmine's story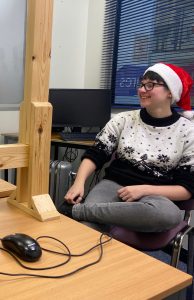 Jasmine was studying A' levels at Gower College Swansea when she contacted the Futures team for support with finding a part-time job to fit around her studies. Having decided that she didn't want to go to University, Jasmine wanted to focus her efforts on entering employment to gain valuable transferrable skills and real-world experience. Jasmine was supported by her Career Coach to explore suitable opportunities in the hospitality sector and was matched to a Dessert Maker role in local dessert parlour, Treatz.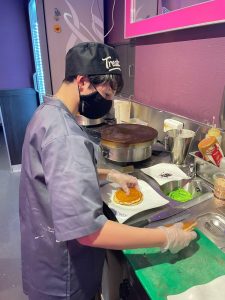 Jasmine worked with her Career Coach to create a high quality CV, and dedicated herself to mock interview practice sessions to build her confidence. Jasmine performed exceptionally well at interview and was immediately offered a part-time position.
Wanting to further explore her post-education options, Jasmine's Career Coach signposted her to the Futures Academy – a programme of activities designed to develop an individual employment pathway for every student, with the aim of progressing straight into work or an apprenticeship on completion of their A' level studies. After exploring her options, Jasmine decided to focus on trainee chef opportunities in the hospitality sector; Jasmine was enjoying her part-time role so much that she had discovered a passion for food and the kitchen environment.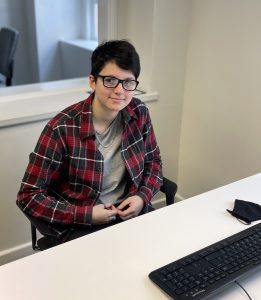 After leaving college, Jasmine was referred to the Better Jobs, Better Futures team for ongoing support. Jasmine's Career Coach suggested that she enrolled onto a food hygiene course to boost her job-relevant skills, and Jasmine took advantage of the opportunity and completed the course with flying colours.
The team worked tirelessly to seek out the right opportunity, and Jasmine was quickly matched with the perfect fit: a Trainee Chef role at the award winning Forage Farm Shop & Kitchen. The role offered the opportunity to work alongside their Head Chef, as part of a supportive team with a passion for local produce and sustainable farming practices. Jasmine was extremely excited about the opportunity, and submitted an application; she hugely impressed the employer and was offered the Trainee Chef role with immediate effect.
Jasmine has been in her role for a few months and is making exceptional progress, and it is fantastic to see the commitment to her ongoing development with her Commis Chef apprenticeship having recently started in September.
"We are delighted that Jasmine has joined us as a Trainee Chef. The kitchen team at Forage has built a fantastic reputation over the last two years, and we hope that Jasmine will learn a great deal and enjoy her training. We are building a really exciting project here, and it's fantastic to give youngsters a chance to develop their careers with us." – Tom Homfray, Owner, Forage Farm & Kitchen.
https://employability.gcs.ac.uk/wp-content/uploads/2022/11/Jasmine-4-copy-1-scaled.jpeg
1707
2560
Better Jobs, Better Futures
https://employability.gcs.ac.uk/wp-content/uploads/2020/07/employability-x2.png
Better Jobs, Better Futures
2022-11-03 11:40:19
2022-11-03 11:40:30
Carving out a career in hospitality – Jasmine's story