Ashmole & Co, one of Wales' largest accountancy and auditing practices, recruited Courtney as a Business Administration Apprentice at the beginning of September after she graduated from Gower College, Swansea, with A Levels in English Language and Literature and Welsh.
Courtney is excelling in her apprenticeship and gaining hugely valuable experience in all aspects of businesses operations including IT, HR and Payroll. Courtney is also receiving fantastic support from her employer, completing various online courses and working towards gaining future qualifications to accelerate her progression.
"Starting a new job during a pandemic was daunting, but the support I have received from Better Jobs, Better Futures, my family and Ashmole & Co has been very reassuring. If you're thinking of doing an apprenticeship and want to earn a wage while gaining experience, it's a great option. I am excited to learn new business skills and bring that together with my own skillset. My family and I are pleased I have been given this opportunity to gain qualifications whilst having the practical experience to match." – Courtney, Apprentice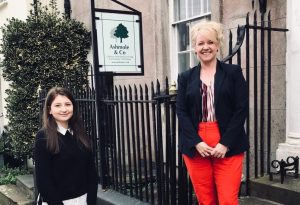 "Our business needed an all rounded, office junior level of support, however we had much to offer someone who wanted to gain practical experience in the business environment. Taking on an apprentice is a great way to enhance the skilled workforce here at Ashmole & Co and we consider it a privilege to be able to assist in Courtney's career development. The biggest benefit for me is that the candidates have the best attitude, with enthusiasm and a willingness to learn. I would whole-heartedly recommend taking on an apprentice to anyone who has the opportunity." – Sarah Stallard, HR Manager, Ashmole & Co
"We worked with Sarah at Ashmole & Co to provide support on the whole recruitment and onboarding process, ensuring an apprenticeship was the right fit for the role, and for the business. We worked hand in hand to advertise and fill the position. I am delighted that we were able to find the ideal candidate for Ashmole & Co in Courtney, who is now enjoying the opportunity to earn while she learns." – Beth Fisher, Workforce Adviser
https://employability.gcs.ac.uk/wp-content/uploads/2021/02/Courtney-Knight-.jpg
755
1107
Better Jobs, Better Futures
https://employability.gcs.ac.uk/wp-content/uploads/2020/07/employability-x2.png
Better Jobs, Better Futures
2021-02-11 13:59:18
2021-02-10 15:19:45
Say hello to Courtney!