Alina is 17 years of age, originally from Latvia and has lived in the UK for the last 10 years. Alina was keen to find employment in Painting and Decorating, and received support from Better Jobs, Better Futures to update her CV, gain a CSCS card and search for appropriate opportunities.
Alina does not speak English as her first language and is from a non-working household, so has relied on an education maintenance allowance to support herself financially. Alina wanted to pursue a Painting and Decorating apprenticeship but knew this would be very difficult as she is unable to drive, often an essential requirement. Alina had also been unable to secure part time work to help her achieve this goal as she assisted with the childcare of her younger siblings on evenings and weekends.
With the support of the Better Jobs, Better Futures team, Alina quickly secured an apprenticeship and passed all of the required tests. The apprenticeship was offered at an increased pay rate and Alina's employer has been incredibly supportive, wanting to help Alina progress in every way possible and even contributing to the funding of her driving lessons.
"During this hard time, I received lots of support. I was given lots of help with lessons and resources to pass my CSCS card and I am very thankful that they helped me find my apprenticeship. The team always kept in contact with me, so I was never worried about my future." – Alina, Client
"Alina has recently started her decorating apprenticeship with us and has relished the challenges set for her. Alina is a welcome and valued team member already and we have high hopes for her future development. We would not have found Alina if it wasn't for the help of Better Jobs, Better Futures. The continued support has been great, and we would recommend the service to anyone who is looking to recruit." – Employer, Gower Paint Pro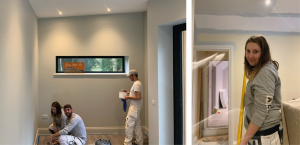 https://employability.gcs.ac.uk/wp-content/uploads/2021/02/Alina-Web-01.png
3334
6921
Better Jobs, Better Futures
https://employability.gcs.ac.uk/wp-content/uploads/2020/07/employability-x2.png
Better Jobs, Better Futures
2021-02-08 12:22:20
2021-02-08 12:27:25
Meet Alina...