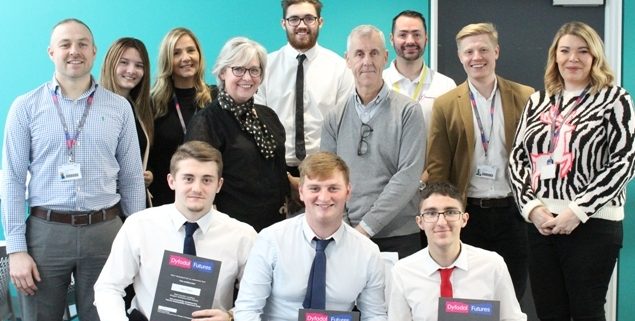 Better Jobs, Better Futures – The Apprentice!
The Better Jobs, Better Futures team recently supported students from Gower College Swansea's Foundation Degree in Sports Development and Management.
The students participated in our Futures employability programme to complement the "Sustainable Employability and Empowerment Skills" module of their degree, with the aim of fully preparing them for the world of work within the industry of their choice. As well as undertaking a work placement, students were also required to demonstrate an understanding of their chosen industry and actively improve their work-related skills.
Working collaboratively with tutor Marc O'Kelly and with a strong focus on key outcomes of the module, the Futures team developed a tailored suite of workshops that would support the students in successfully completing their module. Sessions included:
CV skills and application forms
Developing a career focused audit of skills and experiences
Recognising personal strengths and qualities
Employability skills including resilience, creativity, leadership, negotiation, communication
Workplace behaviour
Social media and digital footprint
Interview skills
Mock interviews
The last session of the programme took the form of "The Apprentice" with students undergoing mock interviews with a range of industry experts. Students were tested on what they had learned, with the scoring results forming part of their assignment credits. Students took part in three interviews each and the feedback from the interviewers, who had never met the students before, was incredibly positive, praising the high quality of the CV's, the way the students conducted themselves and how they confidently highlighted their relevant skills and experience. Some of the interviewers had also viewed the student's social media profiles, and all were impressed with the level of professional online presence, particularly the student's exemplary LinkedIn profiles, a topic covered in one of the programme workshops.
One of the industry experts was Anthony Bowen, Head of Youth Recruitment at Stoke City F.C:
"It was evident that the students had prepared thoroughly for the assessed interviews. I was impressed with the high levels of professionalism and the sophisticated communication used by all the individuals. It was refreshing to meet with such an enthusiastic group of young people and I wish them all the best of luck in their ongoing careers."
For many of today's employers, recruiting the right people means looking beyond qualifications to find individuals with a broader set of skills and experience and the potential to contribute to an organisation's success and longevity. The Futures programme has given this group of students a competitive edge and put them in good stead to kick start their new and exciting career journeys.
Tutor Marc O'Kelly said:
"We have received excellent support from the Better Jobs, Better Futures team. The students have developed their applied employability skills and confidence to apply for appropriate sports related jobs. The process has been hugely beneficial to the course as a whole and we look forward to working in collaboration in the near future."
One of the degree students, Diana has already applied all that she learnt through the programme. Having received one-to-one support to apply for a part-time job in the Wales National Pool, Diana was shortlisted and interviewed. Having performed fantastically well, Diana was quickly offered the position and is now carrying out her new role to complement her studies.
Futures Workforce Adviser, Louise Dempster has supported the students throughout the programme:
"Diana has achieved great success since completing the Futures programme. Having worked incredibly hard and always with a positive attitude, Diana is the perfect role model to other young people who want to gain new skills, broaden their experience and enhance their future employment prospects. It really has been a pleasure supporting Diana and all the other students who participated in the programme"
The Better Jobs, Better Futures team will continue to support the students, providing advice and guidance as they prepare to start their career journey. Support is also available to students across the wider college through the 'Futures' family suite of activities. The support includes:
The 'Futures Academy', which is aimed at A level students not progressing to Higher Education at the end of their course. The Academy delivers a programme of activities designed to develop an individual employment pathway for each student, with the aim of progressing straight into employment or an apprenticeship on completion of their A level studies.
Satellite 'Futures Hubs' offering drop-in employability advice and support at the Tycoch and Gorseinon campuses. The hubs aim to support students to make a successful transition into employment through a combination of career-focused knowledge and skills, and one-to-one employability advice and support. They can also assist students in finding part-time employment whilst undertaking their studies at the college.
Tailored employability support for individual curriculum and learning areas.
If you would like more information about our Futures family or any other support provided by the Better Jobs, Better Futures programme, please contact 01792 284450, drop in to the Kingsway Centre (click here for directions and opening hours) or email info@betterjobsbetterfutures.wales.
https://employability.gcs.ac.uk/wp-content/uploads/2019/01/IMG_6523-Copy-e1547728783244.jpg
347
635
Better Jobs, Better Futures
https://employability.gcs.ac.uk/wp-content/uploads/2020/07/employability-x2.png
Better Jobs, Better Futures
2019-01-14 11:29:51
2019-01-14 11:50:25
Better Jobs, Better Futures – The Apprentice!