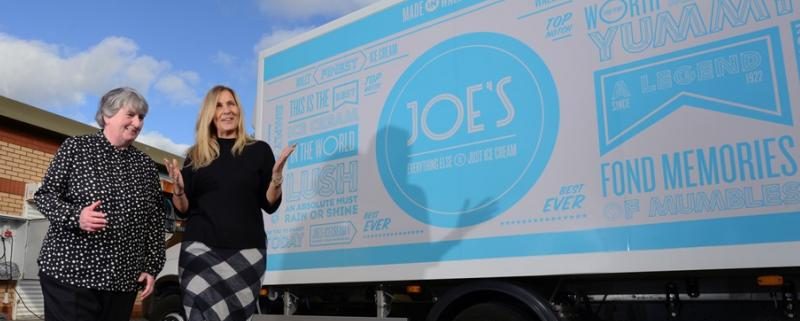 Joe's Ice Cream and Better Jobs, Better Futures – A recipe for success!
Joe's Ice Cream were initially referred to the Better Jobs, Better Futures programme through the Chwarae Teg charity who work to support the economic development of women in Wales.
Workforce Adviser, Zoe Williams, made contact with Director, Lucy Hughes, and initiated discussions relating to how Better Jobs, Better Futures could help support the business in line with the company's unique vision and values.
Lucy's first requirement was for support in filling a part time payroll position which they had been struggling with for a significant period of time. To gain a greater understanding of the business needs, Workforce Adviser Zoe and colleague Dan Parvin met with Lucy at the Joe's premises. Following an in-depth conversation, Zoe and Dan were able to understand what current recruitment strategies Joe's had in place and the methods being used to attract individuals to their available vacancies.
"From the first meeting with Lucy it was immediately clear where the gaps were in the business and how we could help introduce new and effective recruitment strategies. Both myself and Dan were looking forward to growing this working relationship and helping the business fulfil its potential" – Zoe Williams, WFA
Zoe and Dan completed a detailed organisation needs analysis with Lucy and discovered that the business would also need to recruit a Bookkeeper to backfill Lucy's own maternity leave. With this future recruitment need in mind, the Better Jobs, Better Futures team focused on filling the payroll position with the right candidate. Lucy had finalised the job advert and Zoe and Dan took ownership of the sifting process, narrowing down suitable candidates who matched the key criteria.
After the initial sift, Dan and Zoe made contact with each individual to gauge their interest and fully explain the expectations of the role. Once interest was confirmed, a further assessment was undertaken in order to provide an initial shortlist to Lucy, who made the final decision on those who proceeded to interview. In addition, Zoe completed an anonymised equality and diversity audit to ensure that Joe's fulfilled their fair employment obligations.
Interview dates were set, formal invitations distributed and at Lucy's request, the Better Jobs, Better Futures team advised on suitable interview questions. Dan and Zoe managed all of the logistics, including all administration, making sure the process was seamless and robust, and acted as the first point of contact for any questions from candidates.
Following interviews with three high calibre candidates, a successful appointment was made. This was shortly followed by a similarly successful recruitment exercise to fill Lucy's Bookkeeper vacancy and assistance to fill a number of vacancies across the parlours and warehouse. With the support of Better Jobs, Better Futures, and with a clear focus on getting the right people with the right skills in the right roles, Joe's have successfully recruited to all vacant positions.
"Our experience with Better Jobs, Better Futures has been fantastic. They saved us a lot of time and resource and with their help we have successfully appointed two office roles and one production role. The candidates offered to use have been of very high quality and we would not hesitate to use their services again" – Lucy Hughes, Director
The ongoing working relationship between Joe's Ice Cream and Better Jobs, Better Futures continues to be hugely positive and productive with ongoing plans for the New Year for more detailed discussions around succession planning. Lucy has returned from maternity leave and is keen to continue working with the team on a variety of workforce planning issues, focusing on maximising the future potential of this iconic and ever expanding business.
"We are delighted to have been able to source high-quality candidates for a number of roles that had posed an ongoing recruitment challenge for Lucy and her team and we look forward to continuing to work with Joe's to support them in the ongoing development of their workforce" – Dan Parvin, Better Jobs, Better Futures Workforce Adviser.
If you would like further information about how Better Jobs, Better Futures can help your business, call the team today: 01792 284450 or email info@betterjobsbetterfutures.wales.
https://employability.gcs.ac.uk/wp-content/uploads/2019/01/AW101018GCbetterjobs001_web.jpg
450
800
Better Jobs, Better Futures
https://employability.gcs.ac.uk/wp-content/uploads/2020/07/employability-x2.png
Better Jobs, Better Futures
2019-01-15 15:59:48
2019-01-15 16:00:32
Joe's Ice Cream and Better Jobs, Better Futures – A recipe for success!