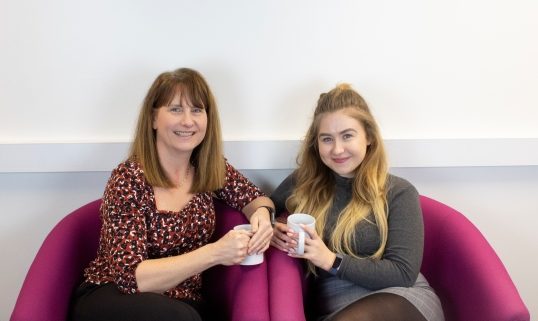 Mother and daughter thank College's employability programme
Mother and daughter team Deb and Rebecca Harry are among the latest beneficiaries of Gower College Swansea's highly successful employability programme, Better Jobs, Better Futures. 
Rebecca was studying A Levels and a Level 3 AAT course at the College when she first visited Better Jobs, Better Futures with the aim of becoming an accountant.
Wanting help to improve the employability skills needed to pursue her chosen career, Rebecca joined the 'Futures Academy,' a programme designed to develop individual employment pathways for students on completion of their studies.
As well as receiving support with CV writing, job applications and interview preparation, Rebecca also gained a greater understanding of the world of work through meeting leading employers who visited the College.
Rebecca's efforts were quickly recognised and she secured interviews with two major local companies – receiving job offers from both. After careful consideration, Rebecca accepted the offer from Morgan Hemp Accountants.
"Rebecca's success is testament to her determined attitude and fantastic work ethic, and she is a great example for young people taking the first vital steps on their chosen career paths," says Workforce Adviser, Louise Dempster. "It was obvious that she was going to be a very sought after candidate as she had all the attributes that potential employers look for."
A few months later, mum Deb was made redundant from the company where she had worked for 13 years. Deb spent months job searching but was daunted by some of the more detailed and complex application forms. Facing the uncertainty and insecurity of unemployment, and having not secured any interviews, Deb decided to follow in her daughter's footsteps and worked with the team at Better Jobs, Better Futures to get support with identifying the skills and qualities that employers look for and applying for suitable roles.
With newfound confidence and self-belief, Deb was delighted when interview invitations began to come her way and was determined to make the most of every opportunity.
"Before every interview I made appointments with Better Jobs, Better Futures to practice my techniques when answering questions," says Deb. "Going through the process in a relaxed environment with familiar faces really helped me prepare and I felt ready for all the interview challenges I was about to face."
Soon afterwards, Deb was offered not one but two great positions and she is now looking forward to a fresh start in a finance role, with huge potential for further development.
"Deb is a credit to herself and her family and a role model to others facing the difficulties of redundancy," said her Career Coach Emma Wood. "Having been scared and nervous about her future, Deb can now feel motivated and excited and that is truly amazing to be part of!"
Both Rebecca and Deb are united in their belief that Better Jobs, Better Futures played a crucial role in their success.
"I wouldn't have been able to transition so smoothly between college and employment without them," says Rebecca. "I can't wait to see what the future holds and I feel really excited about my new career!"
"I believe that a huge part of my success is down to the help that Emma gave me and I'm really grateful to her and the Better Jobs, Better Futures team for everything they have done for me and my family," adds Deb.
https://employability.gcs.ac.uk/wp-content/uploads/2019/02/IMG_8163.jpg
427
538
Better Jobs, Better Futures
https://employability.gcs.ac.uk/wp-content/uploads/2020/07/employability-x2.png
Better Jobs, Better Futures
2019-02-25 10:37:21
2019-04-04 15:59:21
Mother and daughter thank College's employability programme