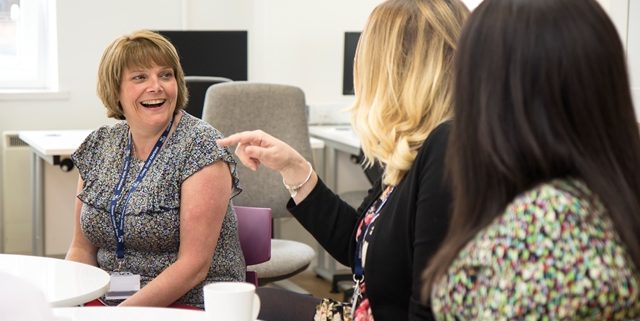 Better Jobs, Better Futures: 3 ways Swansea's brand new employability initiative is one of a kind
'Better Jobs, Better Futures' is a new employability programme supporting people in Swansea seeking new or better employment and businesses seeking to develop and expand their workforce. Here, Employability Partnerships and Programmes Manager, Cath Jenkins, takes us through how Better Jobs, Better Futures, is different to any other employability programme.
When we decided to launch Better Jobs, Better Futures, we knew we had a sizeable task in front of us. With significant parts of Swansea having the highest rate of unemployment in Wales, helping more people into work was at the heart of our mission. However we also knew that, as in many other parts of Wales, too many people in Swansea struggle in poor quality or insecure employment, meaning work often doesn't provide the sustainable route out of poverty that it should. At the same time, exciting developments in Swansea such as the City Deal will require us to equip not only the next generation of workers, but also much of our existing workforce, if we are to fully maximise these opportunities and ensure that the benefits are shared widely. So our driving force was to create a programme which would not only boost employment, but also create better employment.
To do this, we needed to be different to any other employability programme, providing a unique service that puts the needs and aspirations of its clients at the very heart of what we do. Here's how:
We're a constant source of individually-tailored support
Our dedicated taskforce are employability experts who are committed to finding the right career solution for everyone. Through individually tailored advice and mentoring, we stay away from tightly structured interventions, preferring to offer a bespoke package of support to workers and businesses alike.
We support people for as long as they need us to and we work with employees and their employers to maximise the chances of people staying in work, even when difficulties arise. This means that the help we offer doesn't end as soon as people are employed; it continues for as long as is needed for individuals to sustain and progress within employment. So it truly is an end-to-end service.
You don't need to be unemployed for us to help you
We don't just help individuals into work – we also provide opportunities for individuals to find better work. Wales has the highest rate of underemployment across the UK, meaning that a number of people are regularly searching for extra hours, a more stable employment situation, or a job which utilises their skills more effectively. We work with employers to find ways that they can offer better quality employment and we're able to call on the vast provision available across Gower College Swansea to ensure that the people of Swansea are encouraged, enthused and equipped to capitalise on these opportunities.
We help businesses too!
We aren't solely focused on workers – we work closely with local businesses who can provide rewarding employment for the individuals we support. This means we provide employers with a complete package of integrated support from initial recruitment through to in-work staff development, so they can recruit and retain talented workers and realise the benefits of having an engaged, efficient and effective workforce.
If you'd like to learn more about Better Jobs, Better Futures, please head to betterjobsbetterfutures.wales or follow us on:
Twitter: @SwanseaBJBF
Instagram: @Swanseabjbf
Facebook: Better Jobs, Better Futures – Gwell Swyddi, Gwell Dyfodol
LinkedIn: Better Jobs, Better Futures – Gwell Swyddi, Gwell Dyfodol
https://employability.gcs.ac.uk/wp-content/uploads/2017/10/TO-EDIT-5.jpg
427
640
Simon James
https://employability.gcs.ac.uk/wp-content/uploads/2020/07/employability-x2.png
Simon James
2017-10-04 12:21:37
2018-04-30 14:27:52
Better Jobs, Better Futures: 3 ways Swansea's brand new employability initiative is one of a kind