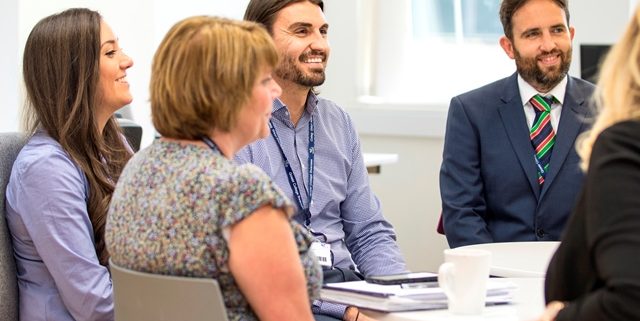 New programme set to strengthen city's workforce
Gower College Swansea is launching a brand new initiative aimed at maximising employability and in-work progression in the Swansea area.
The Better Jobs, Better Futures programme will work alongside the college's existing upskilling programmes to support unemployed people in finding work, while helping those already in employment to secure better jobs through individually tailored advice and mentoring.
Better Jobs, Better Futures will also work with local employers to expand and strengthen their workforces, providing them with personalised support and advice on how to recruit and retain talented employees.
The most recent data shows that Wales has the highest rate of underemployment across the UK, while Swansea East has the highest rate of unemployment across Wales. Additionally, women in Swansea account for 73% of part-time employment in Swansea.
To address these labour market challenges in Swansea, Better Jobs, Better Futures will focus on four main areas:
Supporting adults (aged 25 and over) in short term unemployment in finding work
Supporting job-ready young unemployed people (ages 16-24) in finding work
Supporting people in low-level or insecure employment to retain and progress within work
Supporting women in low-paid / low-skilled employment to progress within work.
The programme is led by Employability Partnerships and Programmes Manager Cath Jenkins. Formerly Deputy Director of Employability and EU Funding within Welsh Government, Cath has a wealth of experience in the field of employment support and will be responsible for implementing the College's strategy on employability.
Commenting ahead of the launch, Cath said: "I speak for the whole team when I say how excited we are to get this innovative new programme up and running. We're committed to supporting as many people as we can in Swansea to gain, retain and progress within employment, and to equipping employers with the dynamic workforce they need both now and in the future.
"The programme is expected to engage with approximately 1,800 individuals and 200 businesses over the next three years, and we have already made 19 staff appointments in order to reach this target. These include Workforce Advisers, Project Co-ordinators, Career Coaches, and more.
"Each and every member of the Better Jobs, Better Futures team is dedicated to building successful careers for everyone, and we hope to inspire the people and businesses of Swansea to fulfil their true working potential over the next few years as we continue to expand and develop this fantastic new programme."
"I'm delighted that we are able to deliver this programme from our new offices on the Kingsway," adds Gower College Swansea Principal, Mark Jones. "We hope this will make a really positive impact on people living across the communities of Swansea, which is a key priority for this College. I also look forward to February 2018, when we will relocate this programme to our brand new Employment Hub which is also situated on the Kingsway in the city centre."
Better Jobs, Better Futures is currently based at temporary offices on the Kingsway, but the programme will be moving to bespoke offices – also on the Kingsway – in early 2018. For more information on how to get involved, please head to the Better Jobs, Better Futures website at betterjobsbetterfutures.wales or follow the programme on social media:
Twitter: @SwanseaBJBF
Facebook: Better Jobs, Better Futures – Gwell Swyddi, Gwell Dyfodol
Instagram: @SwanseaBJBF
Linked in: Better Jobs, Better Futures – Gwell Swyddi, Gwell Dyfodol
https://employability.gcs.ac.uk/wp-content/uploads/2017/10/To-edit-Copy.jpg
368
640
Simon James
https://employability.gcs.ac.uk/wp-content/uploads/2020/07/employability-x2.png
Simon James
2017-10-02 13:23:41
2018-04-30 14:30:00
New programme set to strengthen city's workforce