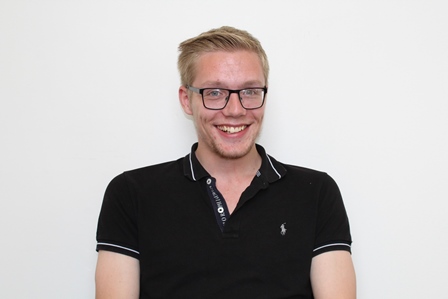 Inspirational young man overcomes significant hurdles and secures prestigious High 5 award
Inspirational young man overcomes significant hurdles and secures prestigious High 5 award
Aaron Cope was facing a life of uncertainty before receiving the support of Gower College Swansea's Better Jobs, Better Futures programme.
Having experienced a number of challenges in his young adult life, including homelessness and losing his dream job in the army due to medical reasons, Aaron has shown tremendous resilience and determination to transform his life for the better.
Aaron began working with Career Coaches Emma and Lisa and he has grown in confidence, made positive life choices and started on a new career path full of possibilities. Always showing total commitment to his development, Aaron attended daily appointments with Lisa, and together they worked on improving his employability skills; developing his CV to emphasise his valuable skills and experience, improving his application writing ability and undertaking mock interviews to practice coping with high pressure interview scenarios. Aaron worked exceptionally hard to improve his interpersonal skills and professionalism and always went above and beyond to engage with the programme.
"Aaron is a fantastic role model and there really are no limits to the potential of this brilliant young man. It has been a pleasure working with Aaron and I feel privileged to be able to support him on his ongoing career journey" – Lisa, Career Coach
Aaron has always shown a desire for self-improvement and has been receptive to the advice and guidance he has received. Aaron has made remarkable progress and as a result he has gained permanent employment at a large supermarket chain. Aaron's fantastic work ethic has already paid off with him being recognised and awarded a 'Gold Medal' for his exceptional customer service. Aaron's future aspiration is to become a store manager, own his own home and have a secure and happy future, and his commitment to achieving these life goals is exemplary. Aaron's success is testament to his resilience, courage and unrelenting determination, and he continues to challenge himself in order to secure a better future full of hope and possibilities.
"Without the support of Better Jobs, Better Futures I wouldn't be where I am today. All the staff have always wanted the best for me. For the first time ever I am excited about the future and I can't wait to see what I can achieve with their ongoing support" – Aaron
Aaron has demonstrated that despite some incredibly difficult circumstances, with the right attitude and effective support you can overcome the biggest of barriers. Aaron is undoubtedly a role model to other young people who may find themselves in a similar situation and he is an incredibly worthy winner of the Inspirational High 5 Award.
"Everyone at Better Jobs, Better Futures is extremely proud of Aaron and what he has overcome and achieved in such a short space of time. Always humble and unassuming, Aaron is hugely deserving of his High 5 award, and we wish him the best of luck for the future" – Mark James, Programme Manager
If you would like to find out more about support offered by the Better Jobs, Better Futures programme, contact 01792 284450 or drop in to the Kingsway Centre (First floor, 37-38 The Kingsway).
https://employability.gcs.ac.uk/wp-content/uploads/2018/10/IMG_5530-Copy-2.jpg
299
448
Better Jobs, Better Futures
https://employability.gcs.ac.uk/wp-content/uploads/2020/07/employability-x2.png
Better Jobs, Better Futures
2018-10-05 14:06:48
2019-01-10 12:05:43
Inspirational young man overcomes significant hurdles and secures prestigious High 5 award