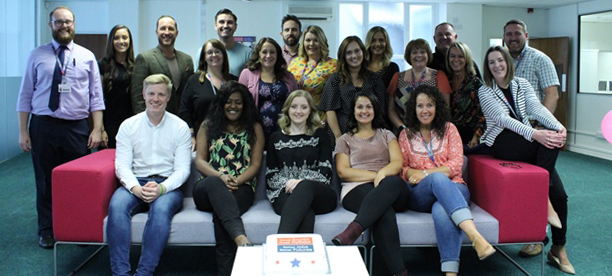 Better Jobs, Better Futures – One year on
Better Jobs, Better Futures – one year on
Gower College Swansea's employability programme, Better Jobs, Better Futures is celebrating a highly successful first year of delivery.
In just 12 months, Better Jobs, Better Futures has supported over 740 individuals seeking new or better employment – individuals like Sean, who arrived at Better Jobs, Better Futures having been unemployed for eight months
After Sean's previous contract – working in the construction sector – ended, he encountered some health problems which meant that he was no longer able to carry out the manual work he had always known and loved. It was a very challenging point in his life, during which Sean experienced poor self-esteem and real concerns about his family's future.
With the support of his Career Coach Bev, Sean regained his confidence and, with a sense of renewed motivation, began updating his CV and learning how to write successful applications that reflected his wealth of skills and experience. At Bev's suggestion, he also successfully completed a NEBOSH qualification.
As a direct result of this support and access to training, Sean developed the essential employability skills he needed to progress and has recently secured a full time managerial position.
"I would not be in the position I am now if it wasn't for the Better Jobs, Better Futures team," he says. "Bev always motivated me to carry on, even when I felt like I couldn't face another application form! Better Jobs, Better Futures has not only supported me to gain a much needed qualification but they have also helped to rebuild my confidence. I now feel as if I can look forward to the future and, above all, provide for my family again. I could not have done this without them."
Better Jobs, Better Futures has also helped almost 150 businesses to expand and develop their workforce. Among them is one of Swansea's most iconic brands, Joes Ice Cream.
"Our experience with Better Jobs, Better Futures has been fantastic," says Director Lucy Hughes. "With their help, we have successfully appointed two office roles and one production role – saving us a lot of time and resources by setting up the job adverts for us, sifting through the applications and dealing with the candidates throughout the recruitment process. The candidates offered to us have been of a very high quality and we will not hesitate to use their services again."
"It's been an amazing first year for Better Jobs, Better Futures, exceeding all of our expectations by supporting over 740 individuals seeking new or better employment and almost 150 businesses seeking to grow their workforce" says Director of Employability, Cath Jenkins. "We have a great team in place who are truly dedicated to helping everyone who walks through our door and who have seen first-hand the difference that gaining meaningful employment can make to people's lives."
"We've achieved great things in our first year and I'm hugely proud of what the team has delivered in such a short space of time, but we're equally excited about what the future holds for the many more people and businesses we plan to support as the programme grows," adds Programme Manager Mark James.
Better Jobs, Better Futures provides tailored employment and career support to unemployed individuals seeking work and to people already in work who are seeking better employment. The programme can also assist businesses that are looking to expand their workforce. For more information please contact 01792 284450 or follow us on social media.
https://employability.gcs.ac.uk/wp-content/uploads/2018/09/IMG_5447-Copy-1.jpg
276
612
Better Jobs, Better Futures
https://employability.gcs.ac.uk/wp-content/uploads/2020/07/employability-x2.png
Better Jobs, Better Futures
2018-09-27 15:47:56
2019-01-10 12:05:57
Better Jobs, Better Futures – One year on