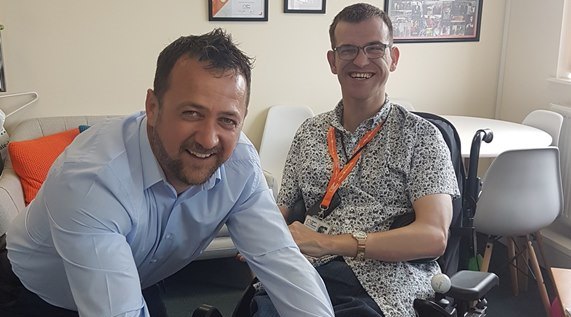 Better Jobs, Better Futures support local business to recruit disability champion
A homecare provider has won recognition for championing disabled workers' rights and ensuring their business is accessible to all, with the help of Gower College Swansea's Better Jobs, Better Futures programme.
Right at Home Swansea, which provides high quality homecare and companionship across Swansea, Neath and the Gower, worked with Better Jobs, Better Futures and employee Lee Ellery to secure support from the Department of Work and Pension's Access to Work scheme.
Lee has Cerebral Palsy Spastic Quadriplegia and only has use of a pincer grip in his left hand. Lee worked with Right at Home as a volunteer for two months before becoming an employee with support from the Access to Work scheme.
Lee is a Disability Activist and a Disability Equality Trainer. He has worked in the voluntary sector for 14 years:
"I came to work at Right at Home after I was approached by James Foley and Tim Dallinger. Tim was aware I was looking for work to get my mind actively engaged and allow me to spend more time away from the family home. You can't imagine how excited I was when Tim informed me that a local employer was looking for someone with my skills. When I met James it was apparent that we shared a vision of what good quality care should look like, and then as they say, the rest was history!"
"After a few more meetings with Emma Lewis (Right at Home's Registered Manager), Fran Knight of the DWP and Emma Wood from Gower College's Better Jobs, Better Futures programme, it all fell into place. I have now become part of the exciting Right at Home Swansea story. You can clearly see James is surrounding himself with people of great talent that makes for a dynamic team. A team that I'm very proud to say I'm part of."
Emma Wood is a Career Coach at Gower College Swansea's Better Jobs, Better Futures programme, providing support to unemployed and underemployed people in the Swansea area:
"Having met Lee previously, I had a good understanding of his condition and the kind of support and equipment needed to enable Lee to do his job effectively. Thankfully Access to Work's guidelines include support for people starting work in a work experience/placement capacity, which is vital for employers and candidates with additional needs. The process helps the candidate experience the working environment to see if they can manage, and helps the employer gauge the levels of support required to accommodate the individual."
"I was able to support Lee to make his initial claim and then work collaboratively with Fran Knight (DWP), James Foley (Right at Home) and Lewis Edwards (ATW) to ensure that the correct furniture and assistive technology was sought for Lee. Lee's claim was successful and I'm pleased to say he's enjoying every moment at Right at Home.  The positive impact this has had to Lee's life is immeasurable; he's writing insightful weekly blogs and training new staff whilst bringing a personal and first-hand perspective to his Disability Equality training that is powerful and rare to find. I was thrilled that Better Jobs, Better Futures played a vital part in this process and I look forward to continuing to support Lee on his new and exciting career journey."
If you are interested in finding out more about the type of support Better Jobs, Better Futures can offer you or your business, contact the team today: 01792 284450.
https://employability.gcs.ac.uk/wp-content/uploads/2018/09/20180614_094758-Copy-2.jpg
317
571
Better Jobs, Better Futures
https://employability.gcs.ac.uk/wp-content/uploads/2020/07/employability-x2.png
Better Jobs, Better Futures
2018-09-03 12:29:59
2019-01-10 12:06:13
Better Jobs, Better Futures support local business to recruit disability champion