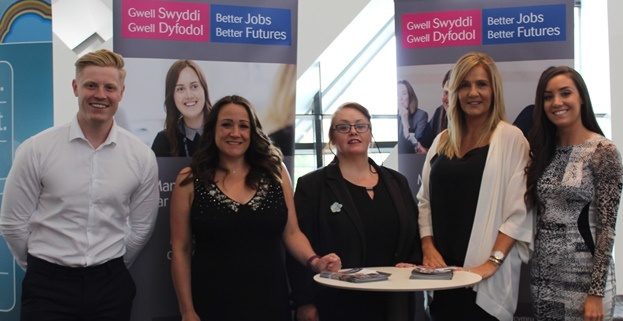 Womenspire Awards! A vibrant celebration of women in Wales
We were delighted to be a sponsor of the ChwaraeTeg Womenspire awards held at the Wales Millennium Centre last month. The Womenspire Awards, now in their third year, aim to recognise and celebrate the personal achievements and outstanding contribution of women across Wales that will inspire future generations.
The work that Chwarae Teg carries out to highlight gender equality and promote modern working practices is vital in promoting a Wales where women realise and fulfil their potential. As a major employer and educational institution in Swansea, Better Jobs, Better Futures and Gower College Swansea are committed to equality and diversity and strive to ensure that all students and clients have fair and equal opportunities to progress and succeed. Women continue to occupy lower paid, lower skilled and often part-time roles, limiting their involvement in the labour market and contribution to the Welsh economy, and Better Jobs, Better Futures supports the work of Chwarae Teg in order to share best practice and in the hope of working together to help women achieve and prosper in the workplace and in life.
Supporting women to progress within employment is a key aim of the Better Jobs, Better Futures programme. Celebrating the achievements of women from all backgrounds and stages in life or work is at the heart of the Better Jobs, Better Futures ethos and it was our privilege to be able to participate in showcasing the remarkable accomplishments of women across Wales. As part of the ongoing celebrations we want to highlight one of the many successful women that have received support from the Better Jobs, Better Futures team.
Tracey Campbell had been unemployed for six months when she accessed the support available at Better Jobs, Better Futures. During this period, she suffered from a lack of confidence and struggled to see herself returning to her career in the care sector. However, with the one-to-one support and mentoring from her Career Coach Bev, she was able to overcome these barriers and find a way back into work as a full-time care assistant.
Tracey said: "I have enjoyed coming to Better Jobs, Better Futures and they have been very helpful to me in every way possible. I have now got a fantastic job and I can't thank everyone enough!"
Speaking of how she worked with Tracey, Bev said: "I know first-hand how difficult it is to find new work after being made redundant from a job you've done for some time. Being faced with the prospect of an entirely new job in a completely unfamiliar area can be a daunting prospect, particularly at a time when your confidence might be low. If Better Jobs, Better Futures had been there when I'd lost my job, I know I'd have regained my confidence a lot quicker, so being involved is very rewarding. When someone finds the perfect job for them, you see their sparkle return, and I'm so glad to be a part of that."
The whole of the Better Jobs, Better Futures team would like to extend their congratulations to all of the nominees, winners, participants and organisers of a truly remarkable and rewarding evening. It was a pleasure to celebrate some of the most exciting, pioneering and enterprising women working in Wales today and we cannot wait to see what next year's event will have to offer!
https://employability.gcs.ac.uk/wp-content/uploads/2018/07/IMG_4538-Copy-1.jpg
401
623
Better Jobs, Better Futures
https://employability.gcs.ac.uk/wp-content/uploads/2020/07/employability-x2.png
Better Jobs, Better Futures
2018-07-04 11:00:17
2018-07-04 11:01:36
Womenspire Awards! A vibrant celebration of women in Wales