"You build a successful life one day at a time".
We sat down with Employability Engagement Co-Ordinator Owen and discussed how there's more than one approach to finding your ideal role. The outcome? An insightful career story that highlights the importance of taking things one day at a time!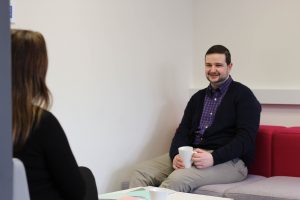 Did you pursue further or higher education?
At college, I studied Graphic Design and ICT, hoping to pursue a digital or creative career. I struggled with the transition from school to college and towards the end of my studies, I still didn't feel settled or ready to go into a job in my chosen field. I decided to continue with education and searched for a suitable university course. I came across an Advertising and Brand Design course at UWTSD which really piqued my interest, and I decided to go ahead and apply. I spent 3 years at university and learnt so much about the creative sector, from designing graphics and videos, directing photoshoots to organising exhibitions. I worked on real projects and marketing campaigns for local businesses and gained a huge amount of experience to support my future career path.
On completion of my university course, I decided I wanted to expand my strategic and managerial knowledge and went onto study MSc Strategic Marketing at Swansea University; I learnt about marketing theory and decision-making processes, and understanding more strategic considerations has heavily influenced and supported my approach and current style of work. It took me a little while to find the right route, but if you are unsure of your next steps, I would highly recommend further study in order to delve deeper into your interests and gain more clarity around the sector you wish to pursue.
What shape did your career take post education?
During my MSc studies, I took part in a 3 month work placement, supporting the Enterprise and Engagement department to develop and implement a marketing plan. This involved encouraging people to get involved in events, promoting the university's employability and entrepreneurial support, and engaging with the wider community. I thoroughly enjoyed my time in this role and it sparked a further interest in marketing services based on practical and meaningful support, particularly within the education sector. I began to realise that I wanted a role where I could make a real difference to people's lives, and it was this realisation that led me to my role at Better Jobs, Better Futures as Employability Engagement Co-ordinator!
Are there any career decisions that you regret?
I try not to have regrets, but I do wish that throughout my studies, particularly at university, that I had engaged with more relevant businesses and taken part in volunteering or work experience opportunities. I feel that this would have benefited me in being able to experience different work environments, get to know the local labour market better and help me identify my transferrable skills for future job prospects.
Is there one thing you wish you'd known when you were younger?
I wish I had realised the importance of accessing support where it was available and I wish I had taken advantage of such support, particularly at college and university. At the time, I didn't think it applied to me or that I needed to engage with this support, but I have truly learnt the value of this type of provision. If I could go back and do it again, I would take all the help that was on offer! Towards the end of my MSc, I got to know the employability team at the School of Management and quickly realised how much there was to learn, not only about the process of submitting applications, writing CV's and reading job descriptions, but also the importance of getting to know an organisation before applying for jobs in order to ensure that your workplace aligns with your core values.
Top tip when applying for jobs?
Applying for jobs can be incredibly challenging, but you have to keep it simple! For me, the most important factor is your genuine passion for the role, sector or organisation. Employers want to see that candidates are interested in the role and want to make a positive contribution. It's important to be authentic and highlight your dedication to pursuing the opportunity. You are going to be competing against many other talented and qualified individuals, so why should the employer choose you? What sets you apart from the other candidates?
What is your ultimate piece of advice?
I try to take a relaxed approach to decisions, work and life. In an ever-changing and fast-paced world, being adaptable and approaching situations in a calm manner will not only ensure that I handle things with a positive mindset, but will also help me to achieve the desired or best outcome in an efficient and strategic manner. I ensure I always have good intentions, and I try to learn from all my experiences to inform future decisions – and hopefully make improvements along the way!
https://employability.gcs.ac.uk/wp-content/uploads/2022/02/OD-Career-Story-Post-scaled.jpg
1707
2560
Better Jobs, Better Futures
https://employability.gcs.ac.uk/wp-content/uploads/2020/07/employability-x2.png
Better Jobs, Better Futures
2022-02-14 11:54:23
2022-02-14 13:29:22
Owen Davies