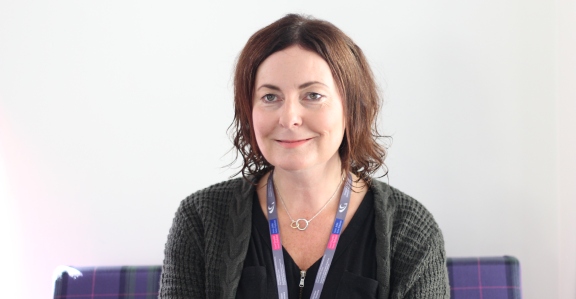 From Client to Career Coach, say hello to Sarah!
Having been a Secondary School teacher for over 20 years, Sarah was looking for a career change. Not knowing what to do or how best to use her skills, Sarah was unsure of how to take the next steps to her new life, until she came to Better Jobs, Better Futures.
Having done the same teaching role for a substantial amount of time, Sarah lacked confidence and was apprehensive about taking this significant step out of her comfort zone.
In April, Sarah attended the Swansea Learning Festival and chatted to the Better Jobs, Better Futures team about the programme and the support on offer.
The following day, full of nerves but taking a leap of faith, Sarah decided to pick up the phone and book an appointment with a Career Coach.
"As soon as I walked through the door everyone was so friendly and welcoming. People would come over and sit with me just to have a chat. I automatically felt relaxed, and even though it was busy, I felt important."
Sarah worked with Career Coach Elliot to explore her options, and together they discussed the transferable nature of her skills and experience. Gaining an understanding of the knowledge and value she had to offer, Sarah's confidence grew quickly.
It didn't take long for Elliot to match Sarah with the Career Coach opportunity at Better Jobs, Better Futures, a natural progression from her role in the education sector.
"Elliot supported me through the whole application process. His coaching enabled me to take positive steps towards applying for the position to the very best of my ability."
In addition to Elliot's mentoring, Sarah undertook mock interview preparation from the recruitment team, helping to further build her confidence and competence in high pressure scenarios. Sarah had all the attributes needed to succeed, it was simply a case of getting her to believe in herself enough to achieve her goal.
"I was absolutely thrilled when I got an interview and was shortlisted. I just thought, I am going to step out of my comfort zone, I am going to do something new, and I am incredibly excited about this new opportunity in a fantastic organisation."
Sarah's natural ability, positivity and flair for supporting others shone through at interview. She performed brilliantly well and she was quickly offered the job.
"It was an amazing feeling when I was offered the role. I was really nurtured and looked after and I was going to get my chance to give others the same experience."
Sarah has made a fantastic start in her new role. Always with a smile on her face, and with her patient and kind approach, Sarah is a huge asset to the team and is eager to support anyone looking to gain new or better employment.
"There is a very strong ethos here that everyone is individual and I want all my clients to have the same experience as I did; without pressure or judgement, only positivity and genuine care and investment. I truly believe it is this supportive environment which brings out the best in people and I am so excited to be part of this journey."
Sarah is testament that to the fact that it is never too late to make a change and set new goals for your career and your life. Sarah has overcome her barriers and proven that there is no growth without change and it is never too late to be what you always might have been.
"I would recommend anyone looking for a career change to come to Better Jobs, Better Futures. You will be greeted with a smile and you will get the support you need. There is nothing they won't do to try and help you."
https://employability.gcs.ac.uk/wp-content/uploads/2019/08/For-website-story.jpg
299
576
Better Jobs, Better Futures
https://employability.gcs.ac.uk/wp-content/uploads/2020/07/employability-x2.png
Better Jobs, Better Futures
2019-08-23 08:31:26
2019-08-27 15:15:06
From Client to Career Coach, say hello to Sarah!