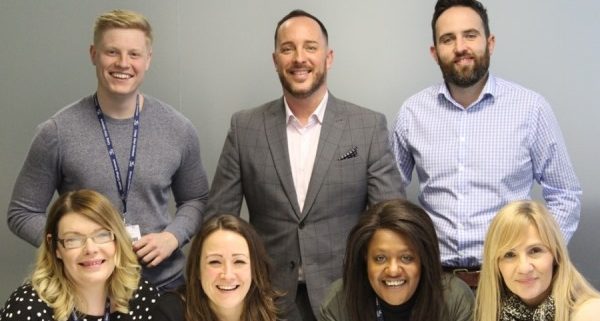 Swansea workforce programme continues growth
-Better Jobs, Better Futures welcome seven new appointments-
A new programme designed to strengthen Swansea's workforce has welcomed several new appointments to its team.
Better Jobs, Better Futures, which is run by Gower College Swansea, has taken on a number of new staff within their Workforce and Recruitment teams to further develop their support for local businesses. 
Louise Dempster, Beth Fisher, Zoe Williams, and Mark James join the team as Workforce Advisers, assisting local employers to expand and strengthen their workforce, providing them with personalised support and advice. With over 15 years of experience in the employability field, Louise Dempster has a strong track record of working with both employers and job seekers. Having previously worked at the former Swansea College on earlier employability programmes, Louise is returning to familiar territory bringing the additional experience she has gained within the wider employment support sector.
Beth Fisher brings wide-ranging experience in a number of client focused positions, varying from large blue chip companies to smaller independent businesses. Able to maximise the potential of any workforce, developing meaningful professional relationships is Beth's forte and she is passionate about working closely with businesses to provide an outstanding service.
Zoe Williams worked in the recruitment industry for over 12 years before moving into the employability sector. With a passion for diversity and equality, Zoe will bring a wealth of knowledge into her new role at Better Jobs, Better Futures, in particular working with companies on skills utilisation and fair and flexible work practices.
Mark James joins the programme after several years working as an employment liaison officer within local government. He says: "I am eager to be working with Swansea's businesses and assisting them with their staff retention, succession planning and the mapping of staff development progression pathways, especially during times of significant economic change in the region."
Alongside the appointments to the Workforce team, the programme is also welcoming three new staff to its Recruitment team, supporting local businesses seeking to recruit new staff through the provision of a full talent acquisition service. Mark Wilkes joins as Senior Recruitment Consultant, with Julie Bowen and Dan Parvin joining as Recruitment Consultants.
Mark Wilkes has been providing recruitment and training consultancy within the South Wales business community, as well as managing an SME business, for 3 years. Mark is excited to use all his experience to lead a team who can provide a holistic, 360 degree recruitment and training proposition to businesses in the Swansea Bay region.
Julie Bowen has over 17 years' experience in the Advice & Guidance sector. With an established network of partners and an understanding of what employers are looking for, Julie will use her experience in guiding clients through all aspects of their career management to create links, broker relationships and create successful matches.
Dan Parvin joins the team from his previous role as a recruiter in the Education Sector. Dan is excited to join the team and looking forward to using his experience in the recruitment field to support candidates into opportunities spanning a diverse range of industries and sectors in the Swansea area.
Welcoming the new appointments, Employability Partnerships and Programmes Manager, Cath Jenkins, said: "Better Jobs, Better Futures is about ensuring that employers are able to recruit and retain the best talent and with these appointments we can demonstrate that we are truly embracing this philosophy ourselves. We're really fortunate to have secured such a talented and experienced team who will be able to offer the best support possible for businesses in Swansea and the surrounding area."
Better Jobs, Better Futures is currently based at temporary offices on the Kingsway, but the programme will be moving to bespoke offices – also on the Kingsway – in 2018. Businesses interested in working with Better Jobs, Better Futures to improve staff recruitment, retention and progression should contact the Workforce and Recruitment team on 01792 284450. Information about the programme is also available via social media at Better Jobs, Better Futures – Gwell Swyddi, Gwell Dyfodol on Facebook and LinkedIn, and @SwanseaBJBF on Twitter and Instagram.
https://employability.gcs.ac.uk/wp-content/uploads/2017/11/IMG_0904-Copy-Copy-2.jpg
332
600
Better Jobs, Better Futures
https://employability.gcs.ac.uk/wp-content/uploads/2020/07/employability-x2.png
Better Jobs, Better Futures
2017-11-30 12:12:29
2018-04-30 14:22:14
Swansea workforce programme continues growth