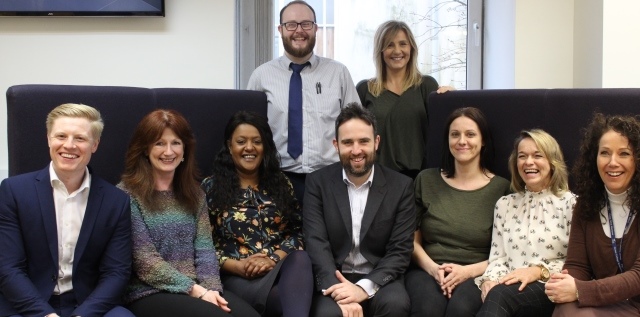 Swansea people securing better employment thanks to College scheme
A programme designed to strengthen Swansea's workforce has supported nearly 400 people and 80 businesses across the city during its first six months in operation. 
Better Jobs, Better Futures, which is run by Gower College Swansea, was established to improve Swansea's overall employment prospects through a mixture of one-to-one employability support for individuals and dedicated workforce and recruitment advice for businesses.
Since its inception, the Better Jobs, Better Futures team have supported clients to secure paid employment in a broad range of roles from kitchen porters to project managers across a variety of sectors from retail and hospitality to manufacturing and professional services.
One of the programme's success stories is Mirleen, a refugee from Afghanistan who arrived in Swansea in 2016. After enrolling onto Gower College Swansea's ESOL (English for speakers of other languages) course to learn English, she was referred to a Better Jobs, Better Futures coach for career advice to help her find employment. Following sessions with a Better Jobs, Better Futures recruitment consultant to improve her job application and interview technique, Mirleen is now working towards a business administration apprenticeship with a Swansea-based lettings agency, and says it was the support she received from the Better Jobs, Better Futures programme that helped her to get there:
She said: "Working with Gower College and the Better Jobs, Better Futures team has changed my life. Before moving to the UK I could not speak any English. I now have very good English and have got an apprenticeship which I love. My family are very proud of me and I can now help them more as I have my first paid position. I feel very lucky to have had such nice people help me and I am excited for the future".
Commenting on the programme's six-month milestone, Cath Jenkins, employability partnerships and programmes manager at Better Jobs, Better Futures said: "The whole team is incredibly proud of all of the individuals we have been able to help during the last six months. For Mirleen, the future looks incredibly bright, and the transformation in her outlook and future prospects has been exceptional and a true inspiration to other people facing similar challenges".
Better Jobs, Better Futures also works closely with local businesses who are seeking to expand and develop their workforce. One such business is CK's Foodstores, an independent food retailer with a number of stores across the Swansea and wider south-west Wales area.
Mark James, workforce adviser, said: "Better Jobs, Better Futures is proud to be working with CK's Foodstores on a range of workforce planning activities aimed at improving opportunities for new and existing staff. This has involved working closely with the management team, gaining an in-depth understanding of the business in order to provide the most effective support. Already this year we have directly assisted the company with a regional recruitment marketing campaign to raise awareness of career opportunities within the company, and we look forward to continuing to support CK's and many other businesses to create  more fantastic new and alternative employment options for the region."
The Better Jobs, Better Futures team is made up of a variety of employment and career specialists including recruitment consultants and career coaches, all overseeing the programme's activity which focuses on four key areas as part of the aim of improving Swansea's overall employment prospects:
Supporting adults (aged 25 and over) in short term unemployment in finding work
Supporting job-ready young unemployed people (ages 16-24) in finding work
Supporting people in low-level or insecure employment to retain and progress within work
Supporting women in low-paid / low-skilled employment to progress within work.
Businesses interested in working with Better Jobs, Better Futures to improve staff recruitment, retention and progression should contact the Workforce and Recruitment team on 01792 284450. Individuals can contact a career coach for help and advice on 01792 284450.
https://employability.gcs.ac.uk/wp-content/uploads/2018/04/To-edit-1.jpg
317
640
Better Jobs, Better Futures
https://employability.gcs.ac.uk/wp-content/uploads/2020/07/employability-x2.png
Better Jobs, Better Futures
2018-04-24 09:03:02
2018-04-24 09:05:52
Swansea people securing better employment thanks to College scheme