As part of its 'Better Jobs, Better Futures' programme, Gower College Swansea delivers a wide range of employability support to its full-time learners under the 'Futures' brand. The Futures team work with students to raise awareness of  numerous employment and apprenticeship pathways for those seeking an alternative to higher education, and work with learners throughout their course to support them to progress on to their chosen routeway. They also offer access to a range of opportunities for learners seeking part-time employment to run alongside their studies, helping to build critical employability skills that will prove highly beneficial for entering the world of work.
This year, through a range of interventions delivered across college, Futures has supported over 4,000 students to develop their knowledge, understanding and appreciation of the local labour market, explore career opportunities and build valuable employability skills, helping many to secure their first ever job. This support has also enabled the college to this year introduce its 'Gower College Swansea Guarantee', which guarantees full-time learners progression onto one of five routes –including a job, apprenticeship or continuing employability support, a higher education place or continuing further education – on completion of their course.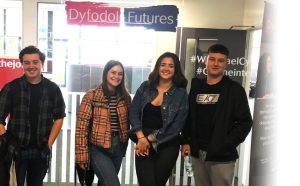 Careers Fair
Building on the college's excellent relationships with local, regional and national employers,  the Futures team are able to offer businesses access to a diverse and highly sought-after talent pool to help build their future workforce. The strength of such connections also enables the college to host regular Career Fairs, attracting companies from a diverse range of sectors. The most recent event in February proved to be highly successful, and an invaluable experience for the over 2,000 students who attended, many of whom secured immediate job offers through connections made on the day. The feedback provided by the organisations who attended was similarly positive:
"We were delighted to be a part of the Better Jobs, Better Futures Recruitment Fair, and it was great to see so many
eager students engaging with such a wide range of employers." Admiral Insurance
"We were delighted to be part of the Recruitment Fair which gave us the chance to provide an insight into employment opportunities in the field of Law. Thank you." Gomer Willliams Solicitors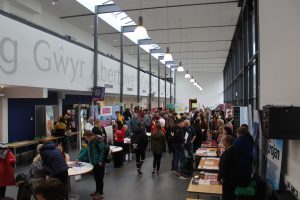 Futures Academy
For A' level Students who do not wish to advance onto Higher Education, support is provided to navigate and plan the next stage of their progression through a unique Futures Academy programme. This innovative scheme, which is well supported by the region's employers, offers students the opportunity to develop an individual employment pathway through a suite of tailored workshops and mentoring to help them seamlessly transition into employment or an apprenticeship on completion of their course.
Demi Clement is one example of a student who excelled from her experience at the Academy. Demi achieved 'Business Student of the Year' in 2018, and secured an apprenticeship with accountancy firm Bevan and Buckland, who said of the experience:
"Demi is a highly motivated and passionate young professional who is fully committed to becoming a Chartered Accountant. Demi has progressed from work experience student to Junior Accounts Assistant as a result of a willingness to gain experience, excellent academic performance and with the support of Gower College Swansea" – Vanessa Thomas Parry, Learning and Development Manager, Bevan and Buckland.
What's next?
In line with the continued delivery of our sector-leading Gower College Swansea Guarantee, and in light of the continued labour market challenges posed by Covid 19, the Futures  programme is expected to play an even bigger role in advising learners on their future employment and career plans over the coming months and equipping them with the skills to succeed in their chosen routeway. So if you're a student, or prospective student, wanting to find out more about the support on offer, or an employer keen to work with us to provide opportunities for our learners, please don't hesitate to get in touch by email to: info@betterjobsbetterfutures.wales
https://employability.gcs.ac.uk/wp-content/uploads/2020/06/IMG_2876-scaled.jpg
1707
2560
Better Jobs, Better Futures
https://employability.gcs.ac.uk/wp-content/uploads/2020/07/employability-x2.png
Better Jobs, Better Futures
2020-06-11 12:12:53
2020-06-11 13:43:27
Spotlight on Futures