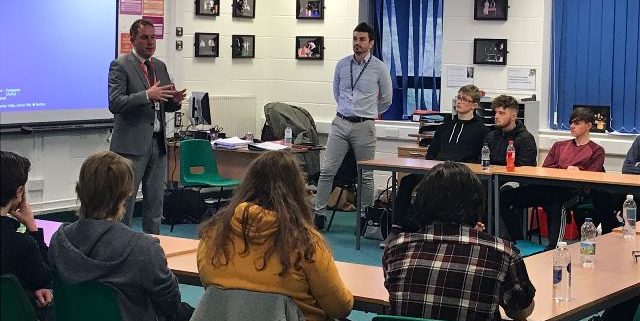 Futures Academy Blog – My Potential, My Future
The Futures Academy kicked off in the first week of February and what a fantastic start it has been!
Back in January, the Better Jobs, Better Futures team invited A level students to apply to join the Futures Academy. We gave students an overview of the Academy programme: an 8 week timetable of activities designed to develop an individual employment pathway for each student, with the aim of progressing straight into employment or an apprenticeship on completion of their A level studies. Students were given information regarding what the future labour market looks like, what skills will be in demand and how they can shape the paths to their chosen career. 24 students successfully applied and have already started exploring some brilliant employment options.
As we approach week four, now is a great time to reflect on what's been covered so far and what we have to look forward to in the coming weeks.
What's happened so far
Week 2 saw City and County of Swansea Council Leader, Rob Stewart deliver an insightful and inspiring presentation to our students, discussing the future plans for Swansea, from the exhilarating new zip wire to high speed Wi-Fi in the City Centre. Rob spoke passionately about the potential for massive growth and development in Swansea and how the enormous amount of investment will have a positive and transformational impact on redevelopment, technology and tourism in our City.  One of the key messages to students was to recognise the opportunities coming to the area and the considerable benefits of staying in Swansea rather than looking for alternative opportunities in bigger and seemingly better cities.
Week 3 of the Academy was all about apprenticeships. Representatives from GCS Training dropped by to deliver some key information to students and we also had two apprentices come along and share their stories; Ellie who completed an apprenticeship in electrical installation and now works as an electrical assessor for Gower College, and Georgia who found an apprenticeship opportunity with Abertawe Bro Morgannwg. Both spoke passionately about the positive impact apprenticeships have had on their lives and their careers, and the students were incredibly fortunate to get such a unique, honest and personal perspective. Week 3 also saw Ruth Gates, Learning and Development Project Manager and Apprentice Lead for ABMU deliver a fantastic presentation to the students, giving an overview of the different career opportunities (including apprenticeship routeways) within the health board and how our students can access them or simply learn more about them. The students gained some valuable information about the skills and attributes that employers look for in applications and the type of responses expected in interviews, and Ruth also answered some fantastic questions from students during the Q&A at the end of the session.
More to look forward to
There are some brilliant opportunities coming up over the next few weeks, including a session focused on Entrepreneurship, exploring whether self-employment might be a viable option for some of our students. We are also looking forward to welcoming more inspiring guest speakers including representatives from Tata Steel, Mitie Facilities, HSBC, as well as young entrepreneurs from CloudCo Creative and Ozone Security Services.
The Academy has had a fantastic response from our students and, with the upcoming introduction of our new 'Future Hubs', offering drop in employment advice at the Gorseinon, Tycoch and Llwyn-Y-Bryn campuses, every student will soon have the opportunity to benefit from one-to-one employability support and coaching, and access to a wide range of job opportunities, through the college's 'Better Jobs, Better Futures' programme.
For more information about the Futures Academy or Hubs please contact the team on 01792 284450.
https://employability.gcs.ac.uk/wp-content/uploads/2018/02/to-edit.jpg
347
640
Better Jobs, Better Futures
https://employability.gcs.ac.uk/wp-content/uploads/2020/07/employability-x2.png
Better Jobs, Better Futures
2018-02-27 13:01:11
2018-03-27 12:48:12
Futures Academy Blog – My Potential, My Future