"Don't get so busy making a living that you forget to make a life"
We sat down with Employability Programme Manager, Dave, and discussed how leading with kindness and graciously accepting change can guide you in an exciting and fulfilling new direction.
The outcome? A career story that proves that just because everything doesn't work out as planned, doesn't mean it won't work out as it's supposed to.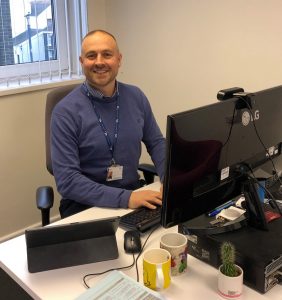 Did you pursue further or higher education?
After leaving school I wanted to serve the public and give back to the community, with the goal of becoming a Policeman. This led me to studying a National Diploma in Public Services at Gower College Swansea before progressing to a Higher National Diploma at the Swansea Institute. Alongside my studies, I was a keen motocross racer which is a very expensive sport be involved in, so to fund my hobby and social life, I worked part-time as a Customer Service Assistant in Tesco.
What shape did your career take post education?
When I completed my Public Services course, I started working full-time in Tesco while I applied for roles in the police force. Unfortunately, I was unsuccessful at the written stage of the recruitment process and it was time to re-think my career plan. Whilst waiting for alternative opportunities to come up, I was approached by the then deputy CEO of Tesco during a store visit who was impressed with my performance and the high levels of customer service I was providing. He encouraged me to join a 2-year management training programme, and I soon found myself on the pathway to becoming a Manager at Tesco!
Throughout my time on the training scheme, I gained experience of managing a range of different departments in a number of stores across South Wales. It was an intense but interesting training period where I learned about the organisation and structure, and the complexities that come with managing such a large volume of staff. On completion of my training, I decided to specialise in HR management, leaning into my people skills and passion for personal development. This led me to being appointed HR Manager for a store, overseeing welfare, culture, training, disciplinaries and grievances for over 250 staff. This role was demanding and incredibly challenging, but I loved it and it suited my skills perfectly. After working in the role for a few years, I was given a secondment opportunity to work alongside the Head Office HR team to implement a new induction process. The role saw me working away from home Monday to Friday for 6 months, but it was too good an opportunity to miss. This accelerated my development and I and I thrived being part of a wider team, but admittedly I did struggle with the work/life balance and being away from home for such an extended period of time.
Following my secondment and returning to my Store HR Manager role, I was offered another amazing opportunity; to introduce a new management structure and run workshops and training to create 'Team Leaders' for each area of the store. This saw me travelling across Wales, working with various Store Managers and their teams to implement the new structure. This was another huge learning experience for me and I was grateful for the continuous development opportunities, which kept me moving forward, making progress and achieving my professional goals.
After completing the project, I returned to my HR Manager role where I stayed for another 2 years, before a HR re-structure removed my role and left me at risk of redundancy. This was a tough situation and a big shock after having so many successful years with the organisation.
How has your career journey developed?
After 21 years at Tesco and finding out that my role was being removed from the management structure, I was given the chance to apply for a new role or to take redundancy: an incredibly difficult decision. After weighing up my options, I decided that my time with the organisation should come to an end, since I had worked there from the age of 16 and not known any other sector or type of work. I had young children and wanted to focus more on my home life, so I decided that a different route would be more suitable.
After taking a few months off to spend with family, I started searching for roles and signed up to undertake CIPD and a Level 5 ILM course. I came across the Workforce Adviser role at Better Jobs, Better Futures, which required a speciality in HR, and it seemed like the perfect role to combine my knowledge, experience and passion for supporting people. I applied and was absolutely ecstatic to be offered the role.
After 4 months in the Workforce Adviser role, I was promoted to Team Leader and soon after, a Programme Manager vacancy became available. I felt re-energised with my new responsibilities and I decided to apply; this was an exciting and fast-paced new project and I was part of an ambitious and progressive team. I knew I was where I was meant to be and was keen to accelerate my professional development as far as possible.
I was successful at interview and became one of 2 new Programme Managers for the project. From the set-back of my redundancy with Tesco, to securing this incredible new opportunity, I couldn't believe how fast things had changed for the better. The whole experience really taught me to keep my vision, believe in the journey and trust the process!
Are there any career decisions that you regret?
I'm not sure I would call this a regret, but more of a situation where I wonder how things might have turned out differently. During my career with Tesco, I had the opportunity to apply to be a Store Manager. I initially started the application process, but external factors meant that this was pushed to one side and unfortunately I missed the opportunity. I'm happy with the choices I have made and the career path I have pursued, but I do often wonder 'what if'!
Did your career direction change after having children?
After having children, my priorities massively changed. After spending long periods of time working away and having inconsistent working hours in retail stores, I wanted to have a set working routine, work closer to home and improve my work/life balance. My family are incredibly important to me and I've learnt not to get so busy making a living that I forget to make a life.
Is there one thing you wish you'd known when you were younger?
I wish I had looked for support when transitioning between University and work. Shortly after leaving education I went onto an intensive management course, and I felt incredibly unprepared for full-time employment. I would definitely access employability support to manage this process more effectively and ensure I was prepared for the intensity and daily demands of the world of work. Taking the first steps on a career journey is a daunting and overwhelming time, and I would absolutely urge anyone in this situation to do their research, take their time, and surround themselves with people who truly want the best for them. The support is there in abundance so recognise when you need help, and be brave enough to ask for it.
What is your ultimate piece of advice?
Don't be afraid to take an opportunity that might not be part of your long-term 'plan'. Don't wait for the right opportunity, create it! To be successful, we must be flexible and adjust and adapt when things don't seemingly go our way. We can't change the cards we are dealt, just how we play the hand!
https://employability.gcs.ac.uk/wp-content/uploads/2022/02/Dave-crop.jpeg
480
1030
Better Jobs, Better Futures
https://employability.gcs.ac.uk/wp-content/uploads/2020/07/employability-x2.png
Better Jobs, Better Futures
2022-02-21 13:56:25
2022-02-21 13:56:25
David Freeman