"Have an attitude of gratitude". 
We sat down with Career Coach Angela and spoke about the importance of your career journey aligning with your core values. The outcome? An insightful career story that proves if you do your best in every situation, the results will always follow.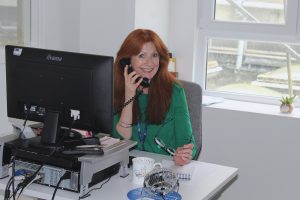 Did you pursue further or higher education? 
 I stayed in school to study science based A Levels with the intention of studying Behavioural Science at University, but after looking into degree courses and options of universities, I decided to go in a different direction and study primary school teaching. After completing a two-year Diploma of Higher Education qualification, I decided to move across to a combined BA degree course in Modern English Studies & Urban Rehabilitation. I finally felt like I had found the right course for me, and that I was now on the right track to a career I would enjoy.  
What shape did your career take post education? 
After graduating, I applied for a third sector role in a Swansea based environmental organisation, supporting community groups with funding for environmental improvement and conservation projects. During my role, I realised that whatever I ended up doing for the rest of my life, it had to be something that involved helping people. I had a great time working with community groups to make improvements in their local areas as well as helping to educate people about beneficial conservation activities for the environment. 
 After some time in this role, I had the opportunity to spend a year in Sydney, Australia, which was an opportunity I couldn't pass up! I felt that a change of scenery would be incredibly useful for my personal development and open my eyes to the wider world. What I intended to be a one year working holiday, turned out to be an 11-year stint living in Australia and working in several roles from recommending books to school libraries to working on the features team for a local newspaper! Each role led me to the next, and with no set intentions or pressure on myself, I had such an incredible experience.  
How has your career journey developed? 
 After 11 years in Australia, I returned to Swansea and worked briefly in temporary roles while deciding my next move; I was unsure whether I wanted to stay in Wales, return to Australia, or something else! After much contemplation, I decided to settle in Swansea, buy a house, and find a full-time career. I secured a customer service role on a commercial team and stayed for 3 years. It was at this point that I realised that I wanted a more fulfilling role and I decided to apply for a position supporting people with disabilities to secure employment. I was successful and this was my first step into the employability sector! This role really solidified my desire to do meaningful work, and being in the community, providing support to those who really needed it, was exactly where I wanted to be at the time; I had a purpose and I really believed in my ability to fulfil it. 
Unfortunately, after 8 years in the role I was made redundant, but thankfully, after just 6 weeks out of work, I moved into a similar role delivering on an employability support programme. I stayed in this role for 6 years before moving to Better Jobs, Better Futures in my Career Coach role. I feel privileged to work with clients on a one-to-one basis and I thoroughly enjoy supporting people to make positive changes to their lives. I'm very lucky to be involved with such rewarding work, helping people to achieve their goals and overcome barriers – it's definitely worth getting up in the morning for! 
 Are there any career decisions that you regret? 
I have no regrets in terms of my career choices as I firmly believe, as with all aspects of my life, that at any given time I was doing the best I could based on my current circumstances and situation – and if I was doing my best, how could I regret anything!  
Top tip when applying for jobs? 
My top tip would be to research the organisation you're applying to and prepare, prepare, prepare! Put lots of effort into your application and interview and show that you have taken the time and energy to showcase yourself and your skills. If you are not successful even after you have given it your all, learn from it and keep trying – there will be other opportunities out there that are meant for you.  
What is your ultimate piece of advice? 
My best advice is to be a friend to yourself. Treat yourself with the same compassion you would show to other people. Talk kindly to yourself and make it a habit. It makes such an impact on what you can achieve.  
https://employability.gcs.ac.uk/wp-content/uploads/2021/06/Ange-2.jpeg
1365
2048
Better Jobs, Better Futures
https://employability.gcs.ac.uk/wp-content/uploads/2020/07/employability-x2.png
Better Jobs, Better Futures
2021-06-11 14:25:11
2022-01-26 13:55:58
Angela Davies