"If you fail to prepare, prepare to fail – preparation is the key to success!"
We sat down with Futures Career Coach, Sam Howells, and spoke about how difficult journeys can often lead to brilliant destinations. The result? An honest and heartfelt career story that proves that if it doesn't challenge you, it won't change you.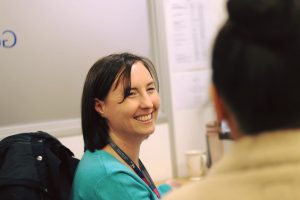 Did you pursue further or higher education?
Following school I attended Gower College Swansea to complete a course in Beauty and Holistic Therapy and, once I had completed the course, I was advised to enter the world of work and find a job. I was so nervous and felt so unprepared, so I decided that the best thing for me would be to continue with my studies and I enrolled onto a HND Complementary Therapies course. I didn't want to feel rushed into finding any job where I would be unfulfilled and purely just working to earn money; I wanted a lot more for myself and for my career so I made the decision to continue with education.
What direction did you take post-education?
Upon completion of my HND, I worked a number of part time jobs across the retail and beauty sectors but, after a few years, decided to return to education to study a part time teaching qualification to expand my career prospects alongside my part time role. My career has always been really important to me so, at every possible stage, I have tried to make informed choices with my future goals in mind. There is so much more advice and guidance available now that I wish I had been able to access when I had to make such big decisions.
How has your career journey developed?
During my second year of studies, I was offered paid experience teaching a beauty therapy course, and I continued this work part time alongside my beauty therapist role. It was a brilliant opportunity for me to continue to enhance my skills and broaden my experience in my field, and I wanted to do everything possible to give myself the best chance of long-term career success.  Shortly after taking advantage of the teaching opportunity, a maternity cover teaching position came up with another college, which I grabbed with both hands and carried out alongside my part time role with Gower College Swansea. It was an incredibly busy time in my life, but one that has given me the opportunity to meet so many different people and learn so much in such a short space of time.
Did your career direction change after having children?
After having children, I returned to my part time role with Gower College Swansea, and was involved in a number of different areas including work placements, HND classes and the Welsh Baccalaureate. These were new challenges to me, especially after time away from work, but the opportunity allowed me to increase my earnings whilst working towards securing professional standards, including achieving an IQA qualification. After taking maternity leave with my second child, I really wanted to secure a full time, permanent role, and applied for my current Career Coach role at Better Jobs, Better Futures. I was really looking forward to returning to the world of work, and being more than just 'mum', and it's been a busy but hugely rewarding time in my life, that I wouldn't change for the world!
Are there any career decisions that you regret?
It's easy to look back and think 'what if', and my main regret is settling for insecure roles and giving it my absolute all whilst not seeking better work opportunities. I definitely fell into the trap of saying yes to everything all of the time, and trying to be all things to all people, convincing myself that this would improve my career prospects – but guess what, it didn't. I learnt the hard way, but burning yourself out and trying to do too much is not the way to pursue your goals. If you lose yourself along the way, then there's no point in any of it, so you absolutely have to keep perspective and make sure your career journey is a happy and healthy one.
Is there one thing you wish you'd known when you were younger?
I wish I had taken myself more seriously in the past and believed in myself and my ability. I've never really felt settled in my career because I have always been actively seeking better opportunities when working in insecure roles. Experiencing difficulties with work contracts and inconsistent incomes really caused me a huge amount of stress and worry, and I wish I had taken action sooner to help myself. I'm so grateful that I am now in a role with an organisation that fully supports me and my life choices, and that I am able to provide that same level of support to my clients. Building a successful career is difficult, and I try to use my experience to help make the journey as smooth as possible for other people.
Top tip when applying for jobs?
Research, research, research – the job, the requirements, the company! No amount of research is too much! The more you know, the more knowledge you can demonstrate at application and interview. Employers look for suitability for a role, so give yourself the best chance of being the perfect fit.
What is your ultimate piece of advice?
Do what makes you happy! If you do a job you love, it will never feel like work. Success comes when preparation meets opportunity and it's better to look back and think 'I can't believe I did that' than to look back and think 'I wish I had done that'. My ultimate advice? Be prepared, be ready, and grab every opportunity with everything you have!
Samantha is one of our Career Coaches at Better Jobs, Better Futures. If you would like more information on the support our Career Coaches provide, please contact the team on 01792 284450.
https://employability.gcs.ac.uk/wp-content/uploads/2021/03/Sam-H-Pic.jpg
1296
1944
Better Jobs, Better Futures
https://employability.gcs.ac.uk/wp-content/uploads/2020/07/employability-x2.png
Better Jobs, Better Futures
2021-03-02 16:10:15
2021-03-04 13:20:24
Samantha Howells