"Choose a job you love, and you will never have to work a day in your life"
We sat down with ESOL Co-ordinator, Sam Alkhanchi, and spoke about how choosing the right career route for you is one of the most important decisions you will make in your life. The outcome? A refreshing career story that proves self-belief, commitment and resilience will help you achieve your dreams.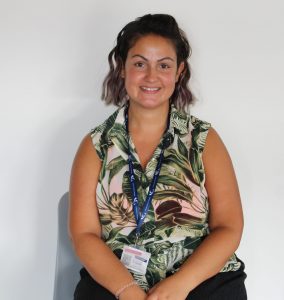 Did you pursue further or higher education?
After leaving school, I studied Travel and Tourism at college alongside my first job as a part time Waitress. I started working at quite a young age and this has helped instil in me a strong work ethic and dedication to employment, regardless of the role I am working in. Balancing the intense hospitality environment alongside my studies was a big challenge for me, but I look back and feel really proud at how I handled the pressure and came through it with so much more confidence and experience. I enjoyed my college course and decided to continue my studies by going to University to complete a degree in Hospitality and Tourism. Alongside studying at Birmingham University, I again worked part time in a hospitality role managing functions and events. This was a big step up from my previous role and I gained valuable project management experience that I continue to draw on today. Balancing work and education was extremely challenging, but it made me incredibly resilient and undoubtedly put me in the strongest possible position to secure future employment and fulfil my career potential.
What direction did you take post-education?
After leaving University, I returned to Swansea and started applying for graduate roles in the area, but I really struggled when I discovered a lack of relevant opportunities. Reluctantly I applied for and secured a waitressing role at Morgans Hotel, and I did really enjoy this opportunity, quickly progressing to Supervisor and, shortly after, Assistant Manager. After 5 years in the role, I felt that I had developed as much as I could and decided it was time for a career change!
How has your career journey developed?
After leaving my role at Morgans Hotel, I moved on to a care role with Gwalia, supporting adults with learning difficulties and mental health issues, alongside studying part time for my PGCE. After completing my PGCE, I secured a Learning Support Officer role with Gower College Swansea and eventually gained a Certificate in Teaching English to Speakers of Other Languages, allowing me to teach ESOL with Gower College Swansea and Unity and Diversity. Working in the Employment Hub meant that I have always worked closely with the Better Jobs, Better Futures and Reach+ teams, and I was really excited when the opportunity came up for an ESOL Co-ordinator. This role felt like the perfect progression opportunity for me and I was so excited to be successful – the start of a brand new chapter!
Top tip when applying for jobs?
My top tip would be to apply for roles that you really want and that you are passionate about. Passions evolve and develop as we gain wisdom and experience so don't worry if things change along the way; stay focussed on your strengths, identify opportunities and don't be afraid to make mistakes! We are all human and making mistakes is part of the learning process – if we don't learn, we don't grow and most progress happens outside of the comfort zone!
What is your ultimate piece of advice?
My ultimate advice would be to stay true to yourself and be confident in doing so. Our career journeys are long and hard and you have to stay authentic and maintain clarity and perspective on your views and decisions. I always try to remind myself to be what I want to be and not what other people want to see, and this helps me stay focussed on what's truly important.
https://employability.gcs.ac.uk/wp-content/uploads/2021/02/IMG_4103-scaled-e1614340983853.jpg
966
1696
Better Jobs, Better Futures
https://employability.gcs.ac.uk/wp-content/uploads/2020/07/employability-x2.png
Better Jobs, Better Futures
2021-03-04 13:30:28
2021-03-04 13:19:50
Sam Alkhanchi