"Keep looking forwards and focus on yourself, your goals and what truly makes you happy."
We sat down with career coach Nicole about how building your skillset and perfecting your approach are crucial to finding your right path.
The outcome? A refreshing story that highlights the fact that everyone is on their own journey and the only expectations you need to meet are your own!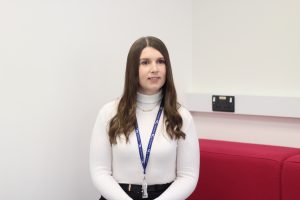 Did you pursue further or higher education?
I enjoyed my time at secondary school and stayed on at sixth form to study A-Level Health and Social Care, Religious Studies, Biology and Welsh Baccalaureate. I wanted to pursue a career in social care so I decided to study a degree in Health and Social Care at Swansea University. This is where my passion for supporting people was born; alongside my academic studies I gained vast experience of working in the sector through various work placement opportunities. I really enjoyed the experience of working with young people and I knew that providing meaningful support to this these groups of individuals was what I wanted to do long-term in my career.
What shape did your career take post education?
Once I completed my course, I decided that I wanted a role supporting young people. I quickly secured a Lead Worker role at Bridgend County Borough Council working on the 'Inspire to Achieve' project. In this role, I was based in secondary schools and supported year 10 and 11 students to address any barriers to education reducing their risk of becoming NEET (not in education, employment, or training). I really enjoyed this role, providing not only advice and guidance on options after leaving secondary school, but also providing wellbeing, emotional and behaviour support to ensure each individual was supported to reach their full potential. I was responsible for ensuring students were engaged with their education by providing regular 1-2-1 support sessions, running day trips and developing summer programmes.
How has your career journey developed?
After 3 years in the role, I decided it was time for a change – I really enjoyed providing intensive 1-2-1 support and the career planning aspects of the role, so I started seeking a suitable opportunity where I could work closely with a consistent client base. I found a Career Coach role at Gower College Swansea which sounded perfect for me to utilise the skills I had gained and to develop further knowledge and skills in supporting a wider client base on a more intensive basis. I quickly and excitedly applied for the role and was successful in securing the position. As soon as I joined Better Jobs, Better Futures I immediately loved the fast-paced environment and the challenging but rewarding task of transferring my skills to support different demographics.
Is there one thing you wish you'd known when you were younger?
I wish I had been more aware of other career options other than going to university. When I achieved good grades at school, it was assumed I would go onto further education, and there other options weren't highlighted to me. If I was more informed about different routes and options, I may have pursued an apprenticeship opportunity, gone straight into work or explored alternative courses. I'm definitely happy with my choices and where I am now, but I think I may have chosen differently had the different options been made available to me.
Top tip when applying for jobs?
Lots of people worry about the application process and impressing the interview panel by showing off your skills and experience, but it's equally as important to remember that this is a two way process, and you are also assessing and considering the organisation you are applying for. Whilst you need to be a good fit for a role – the responsibilities and culture of the organisation also need to line up with your values, skills and experience. You need to understand the working environment that the company fosters, and whether you can see yourself, not only fitting in, but also making a valuable contribution to this.
What is your ultimate piece of advice?
Comparison is the thief of joy; while it may seem normal to compare yourself, your life and your job with friends, peers, and family members, you must remember that everyone is on their own individual path and journey. People are always at different stages of their personal and professional lives, so you have to keep looking forwards and focus on yourself, your goals and what truly makes you happy.
https://employability.gcs.ac.uk/wp-content/uploads/2022/03/Nicole-CS-Pic-scaled.jpg
1707
2560
Better Jobs, Better Futures
https://employability.gcs.ac.uk/wp-content/uploads/2020/07/employability-x2.png
Better Jobs, Better Futures
2022-03-21 10:13:41
2022-03-21 10:13:53
Nicole Lee - Career Story