"Our needs are our greatest assets. It turns out I've learned to give all the things I need."
We sat down with Career Coach Lynsey, and spoke about the importance of seizing every opportunity and never taking life too seriously. The outcome? An exciting and adventurous career journey that shows that having fun is not a diversion from a successful life, it's the pathway to it!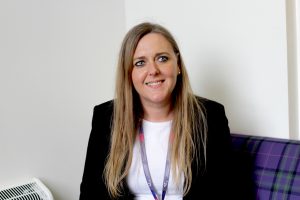 Did you pursue further or higher education?
After finishing secondary school, I wasn't interested in going to college, but without a job to fall back on I decided it was best to submit an application. I enjoyed the freedom of choosing what to study and was accepted onto a Music Production course. After a year of studying and working part-time, I was at a crossroads in my life and unsure what steps to take next. A large telecommunications provider was recruiting customer service representatives which suited my situation, so I applied, was successful and ended up staying at the organisation, progressing to the role of Training and Development Co-ordinator, where I was responsible for the training of new staff and upskilling current employees, which is where I first found my true passion for supporting people!
After 7 years at the company, I accepted voluntary redundancy as I was more than ready for a new challenge. I had always wanted to travel, so I decided to apply for a one-year visa to work in Toronto! Before I knew it, I was on a plane heading to Canada with no work lined up, nowhere to stay, and certainly no clothes appropriate for the cold temperatures! Once I had settled I started to apply for roles similar to the one I had left in Ireland, and I successfully secured a staff development role for a health insurance provider. I decided that I hadn't moved across the world to just do the same job, I wanted new experiences, so I also secured a part-time waitressing role at a comedy club! After 3 years in Canada, I decided to move back to Ireland as I was really missing my family. Although I knew I would struggle to find work due to the high levels of unemployment in Dublin at the time, I didn't quite anticipate how extreme the situation was; this was the first time I had experienced submitting job applications and being constantly rejected; I was very disheartened and my confidence was dwindling as I had no real idea of how to move forward.
On my 32nd birthday, I had an epiphany and decided it was time to do what I had always wanted, and I applied to study a Psychology Degree access course. Although I had been out of education for over 10 years and worried about being the oldest person on the course, this was a huge personal turning point; deciding to pursue education again showed me that I can do whatever I put my mind to, and completely rebuilt my confidence. I went on to study a Joint Honours degree in Psychology and Counselling in Swansea with direct entry to Year 2, which I loved and I worked part-time as a Student Library Assistant alongside my studies.
What direction did you take post-education?
After completing my degree, I decided to stay in Swansea and ended up becoming a Supervisor at an Irish bar in Mumbles while I figured out a longer-term plan. At the time I was worried about my future career, but a conversation with my mother reminded me to "stop being so serious and have a bit of fun" – which I am grateful to have done!
After 2 years in the role, the bar closed and I was made redundant, marking the start of my career in employability; I secured a role in a recruitment agency, where I supported with interviews, applications and a whole host of recruitment processes for both Architectural and Engineering Industries. While I enjoyed the role, I found that the focus was on hitting targets rather than offering clients the support they really needed, and after a year, I applied to become a Recruitment Consultant at Better Jobs, Better Futures; I felt that the atmosphere and values of the organisation really suited my ethos and how I like to work and I was absolutely delighted when I was offered the job. After a few months, I applied for a Career Coach opportunity and I have been in the role ever since!
Do you have any career regrets?
I don't have any career regrets as I feel that every decision has made me the person I am today. Everything I have done in my professional life has happened when I needed it to, as going to University later in life helped me to pursue my true passion. My part-time roles have kept me grounded and reminded me to not take life too seriously and my more professional roles have given me a great platform for development. I think things have worked out pretty well so far and I feel happy and positive about the future!
Is there one thing you wish you'd known when you were younger?
I wish I had known that you really can do anything, as long as you put your mind to it. During my 20's I felt pressure to tick the same boxes as my peers, looking back I realise that I still haven't ticked some of those boxes, but I am a big believer in doing things at a natural pace.  You are in charge of your own path, so be sure to make it your own and follow your passion, not everyone else's!
Top tip when applying for jobs?
If you're interested in applying for a role, don't wait until you meet every criteria, my best tip is to always be ambitious – the worst answer you can get is no, and that provides a learning experience to grow and improve from. It's so important to continue to challenge yourself; if it doesn't challenge you, it won't change you, so go for it with everything you've got!
What is your ultimate piece of advice?
If you're not sure of what you want to do or find yourself at a crossroads, get involved with as many activities as you can; network with people, volunteer, join a club, you never know who you might meet and what you might get from it. I would also advise people to not be afraid to make a change, whatever stage in life you are at; if I had stuck to a linear career path, who knows where I would have ended up today, I certainly wouldn't have found myself in a role full of purpose that I love, coaching people to secure meaningful employment. In the end, we only regret the chances we didn't take, so take the risk and if you win you'll be happy, if you lose, you'll be wise!
https://employability.gcs.ac.uk/wp-content/uploads/2021/05/IMG_9720-scaled.jpg
1707
2560
Better Jobs, Better Futures
https://employability.gcs.ac.uk/wp-content/uploads/2020/07/employability-x2.png
Better Jobs, Better Futures
2021-05-05 13:13:39
2021-05-24 09:08:21
Lynsey Dunne