"It's never too late to start a new beginning."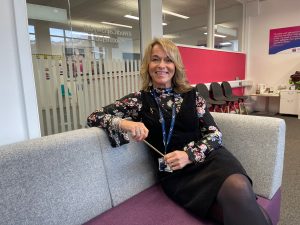 Did you pursue further or higher education?
I was a high achiever at secondary school and fulfilled the role of Deputy Head girl. I was predicted to achieve good grades, but towards the end of my time at school, I started to disengage and became more interested in my social life than my studies. This resulted in me leaving school with only Maths, English and Childcare qualifications. At the time I was devastated with my results as I had hoped to pursue further education, but suddenly, the future I had planned was looking unlikely and I felt incredibly unsure of my next steps.
What shape did your career take post education?
I started working at a local pub whilst I decided what my next steps would be. After a short amount of time, I decided to pursue a career in travel and tourism as I had dreams of travelling the world and it seemed like the perfect career path for me. I worked in a number of independent travel agencies over many years before falling pregnant when I was 20. I returned to work on a part-time basis just 5 weeks later.
At 21, my partner was offered a fantastic work opportunity which meant re-locating to Bath. We jumped at the chance, and I became a full-time mum. One Saturday, I decided to visit the local travel agent (long before the days of booking holidays on the internet!) to book a summer holiday for the family. By the time I arrived home, I had a phone call with a job offer!
I worked at the travel agent part-time for a short while, working as the business's Australian specialist, and regularly achieved 'Employee of the Month' for my performance. A career highlight for me was winning 'Employee of the Year' which I won by offering to beat the price of a school trip at my children's school! I successfully completed the task, won the contract and planned and delivered an educational trip to Auschwitz for 52 students; a truly amazing experience for me.
How has your career journey developed?
Tragically, my eldest son was attacked early on in his university life. It left him with a broken jaw and bruising on the brain which resulted in him suffering from mental health issues. My focus at this time was being there for my family and supporting him back to university, whilst learning as much as I could about mental health issues. At the time I did not know much about the subject, but it inspired me to research and get as much information as possible for me to help my son as best I possibly could. Here, my passion for working with and helping young people was born.
A 6th form Co-ordinator job came up at a local secondary school where I provided wraparound support to students, whilst managing the library and co-ordinating extracurricular events and activities. After a few years in the role, my father sadly passed away which made me re-evaluate my life and made me realise I wanted to live closer to home so I could support my mother. Shortly after, we moved back home and I started working at Neath College library on a part-time basis. Alongside this role, I studied a qualification in life coaching and decided I wanted to work more closely with people on a 1-2-1 basis.
Combining my passion for support and my knowledge and experience of mental health, I accepted a role as a Mental Health Worker. I didn't stay in this role for long as unfortunately I was not as involved as I'd like to be, not providing meaningful support and wasn't using my skillset focused on positive change as I wanted to. I looked for a job more suitable to my needs and aspirations and successfully applied for a Career Coach role at Gower College Swansea.
In my current role I work with young people on a personal basis, supporting them to improve their circumstances and make positive changes to their lives – whether that be securing a life-changing apprenticeship opportunity or building enough confidence to secure a part-time Saturday job. I truly feel I am making a huge difference in people's lives and I'm feel so grateful that I get to call this 'work'.
Is there one thing you wish you'd known when you were younger?
I wish I had found employment based on my skillset at the time; people change, evolve and grow so rapidly and so do their skills, knowledge and experience. It's so important to have an end goal but there's more than one path to getting there – which is likely to look very different to what you might have planned!
Top tip when applying for jobs?
You can't teach passion. While qualifications can be important, it is your drive and determination that will get you to where you want to be in life.
What is your ultimate piece of advice?
Assess your situation and think 'What do I need to do to get where I want to be?'.
People often assume that the path to their dream job is linear but you are able to change your mind! Just because you choose a direction doesn't mean you're committed to that path forever. Be open to all the options that are available to you, and know that getting things wrong is part of getting them right; it's never too late to start a new beginning!
https://employability.gcs.ac.uk/wp-content/uploads/2022/03/Lisa-Career-Story-compressed-1-scaled.jpg
1920
2560
Better Jobs, Better Futures
https://employability.gcs.ac.uk/wp-content/uploads/2020/07/employability-x2.png
Better Jobs, Better Futures
2022-03-18 10:00:33
2022-05-04 11:12:23
Lisa Thomas - Career Story