Kirsty Drane – Career Story
"Be proud of the work you do, the person you are and the difference you make"
We sat down with Receptionist, Kirsty, to discuss the importance of evaluating your situation and aligning your values to your role.
The outcome? An inspiring career story that proves that time gives us perspective and its ok to change your direction!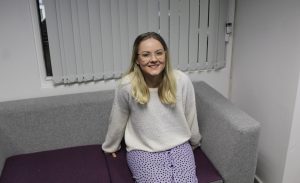 Did you pursue further or higher education?
I stayed on at my school's sixth form to complete A' Levels in Psychology, Welsh, Biology and Religious Education. I feel that this set me up for an ideal transition into university, and I received lots of guidance and support with career planning, courses and applications. On results day I received the (then life changing) news that I had not got the grades I needed for my first choice of university, and had to go with my second choice of Swansea University – resulting in a last-minute move away from home. This was my worst case scenario and an incredibly stressful period of time; all my plans had been turned upside down and my future became very uncertain. However, moving away from home turned out to be the best thing that could have happened to me; having immediate independence and gaining valuable life experience really helped me to grow and develop, and I was still able to visit family and friends back home as it wasn't too far away. I loved my time at university and felt that the balance of studying and an active social life worked really well for me, although I do wish I had got more involved with clubs and societies to gain new life experiences and engage with like-minded people, particularly in relation to the Welsh Language as I didn't use it at all throughout my time at university. I had hoped to go on to a master's degree but funding was exceptionally difficult to secure and so I planned to move into full time work, save for a masters and complete this when I could afford to do so. In a dramatic turn of events, educational funding in Wales became available, and I was able to fund a master's degree in Abnormal and Clinical Psychology. Whilst this was a very difficult transition and a hard year of intense studying, I am so glad I completed it as it was extremely worthwhile for my personal development and gaining confidence in my work.
What shape did your career take post education?
Following my studies, my plan was to become an accredited Psychologist, but finding experience in this field was proving very difficult in Swansea; I planned to find any relevant job in the meantime whilst I considered my next steps, possibly moving somewhere with better prospects in this field. A large proportion of my career journey has been spent analysing the ever-changing job market and matching up available opportunities with my skills, interests and ambitions. I worked for the student's union throughout university and had a really supportive manager who helped me with planning my next steps after education. I found lots of recruitment roles where I met the criteria and could see myself working in this field; I liked the prospect of supporting people into jobs, and the advice and guidance element of the role seemed relevant and applicable to my degree.
How has your career journey developed?
I started as a Recruitment Consultant in a small organisation, sourcing candidates for building surveying jobs – this meant lots of initial research and understanding of the field, and I was given a lot of independence and autonomy in the role. After 10 months, I decided this wasn't the long-term career for me; I preferred a more holistic approach to providing support and felt passionate about genuinely helping people to overcome personal barriers, improve their circumstances and change their lives. I started searching for alternative opportunities, but I had lost a lot of confidence and I felt unsure on how to fully utilise my skills and experience. I saw an administration role at Gower College Swansea based within the employability department, Better Jobs, Better Futures. The role caught my attention and I was confident in my organisation, administration and people skills, which were essential requirements of the role. I also really related to the ethos of the organisation and was excited at the prospect of contributing to the delivery of meaningful employability support.
After nervously applying, I was delighted to be successful in securing the role. I have now been with the organisation for over 2 years and find my job incredibly rewarding; I love working with a great team and facilitating support which ultimately changes so many people's lives for the better. I get to be the first point of contact for individuals accessing support and I feel privileged to be able to watch their journeys, from their initial appointment to seeing their confidence and abilities grow, to achieving some amazing outcomes.
Are there any career decisions that you regret?
I don't have any career regrets and think this is the wrong way to look at any situation. The things you do that you don't enjoy teach you just as much as the situations in which you thrive; in the end, we only regret the chances we didn't take!
Is there one thing you wish you'd known when you were younger?
Working in my current role has made me realise how easy and accessible it is to find the hugely valuable networks of support on offer. Had I known this and taken advantage of similar support when I was at a crossroads in my career, I feel I would have been better equipped to navigate changes and find suitable roles. The job market can be a competitive and intimidating place to be, and I would encourage anyone who is unsure of their next steps to access support to make this step just that little bit easier.
What is your ultimate piece of advice?
Research your employer and organisation just as much as the job description and responsibilities of the role. It is so important to align your role with your skills and experience, but also your beliefs, values, ambitions and long-term plans and goals. We give so much to our working lives that we have to make sure they 'work' for us too, and make us happy, fulfil our ambitions and shape the futures we hope and dream of.
https://employability.gcs.ac.uk/wp-content/uploads/2022/04/Kirsty-Career-Story-Pic-1.jpg
1470
2410
Better Jobs, Better Futures
https://employability.gcs.ac.uk/wp-content/uploads/2020/07/employability-x2.png
Better Jobs, Better Futures
2022-04-26 09:57:38
2022-04-26 09:57:38
Kirsty Drane – Career Story