Success is not final, failure is not fatal, it is the
courage to continue that counts.
We sat down with Recruitment Consultant, Dan Parvin, and talked about the importance of looking back to see just how far you've come. The result? A powerful career story that proves challenges are there to be overcome and that you grow through what you go through.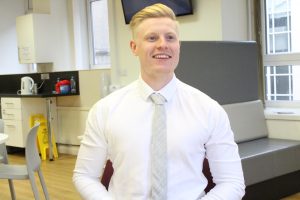 Did you pursue further or higher education?
I wasn't very academic at school, but I had the best time and this kept me motivated to stay in education. As I got a bit older I realised that I hadn't applied myself anywhere near as much as I could or should have, and this encouraged me to start making some positive changes. I was also incredibly inspired by my A level English teacher who was probably the first person to really believe in me; no matter how I behaved or how I performed, she was there to support me, and she is definitely the reason why I started to make better choices for myself and for my life. At college I studied a higher-level diploma in Law which enabled me to go on to study a law degree at University. From a young age, I knew I wanted a career in helping people, so law seemed like the ideal employment route. However, after completing my college course and starting my degree, I realised that I was disengaging from my studying and that law wasn't the best option to pursue at that time. I was fortunate to be able to change my degree course to Education Studies, which I was so pleased about because I absolutely loved it! This was the turning point as the degree was much more aligned with my ambition of providing meaningful support and advice to people, and I quickly knew that I had made the right decision. Alongside my degree, I worked as a Teaching Assistant at a local Primary School so that I could gain some work experience in the education environment. I immediately felt at home in this role and I knew that this was the start of my career journey – I was excited and I was ready!
What direction did you take post-education?
Following my degree, I secured a Learning Support Assistant role with the same Primary School where I developed transferable skills which have really helped aid my career decisions. In my role I was lucky to be involved in so many different areas, from teaching in the classroom to running extra-curricular activities. This variety of experience gave me a lot of knowledge about the educational setting, but also gave me a lot of confidence in my ability, which I really needed at the time. After a year in this role, I was offered the opportunity to work in a recruitment capacity for an organisation who provide PPA cover to primary schools across England and Wales. This was too good an opportunity to miss, and it seemed like the perfect time to take on a new challenge! The recruitment role was a massive learning curve and involved a broad range of responsibilities including recruitment, staff development and management, and I eventually worked my way up to managing the recruitment of staff for the whole of England. I developed skills and expertise in different recruitment processes, having to sift up to 100 job applications and hold up to 10 job interviews per day. This was a massive responsibility for me, both personally and professionally, but I loved it – my confidence grew with the role and I learnt so much in such a short space of time.
How has your career journey developed?
After nearly a year working for the organisation and progressing to becoming Lead Recruitment Partner, I felt that I was ready for the next step on my career journey. I had worked hard, learnt as much as possible, and wanted to put my skills and knowledge to good use in a different field. The timing was perfect as I saw the opportunity come up at Better Jobs, Better Futures for a Recruitment Consultant. Part of Gower College Swansea, this opportunity seemed like the perfect fit, and I just had such a good feeling about it. I interviewed for the post and was successful and it was such an incredible experience being part of a brand new project from its inception to where we are today. It's been a huge journey but one that I feel super lucky to be part of! I hit the ground running in my recruitment role and I was very fortunate to be offered a secondment opportunity, covering a Workforce Adviser position. I carried out this role for just over a year and underwent a huge amount of personal and professional development during this time; I learnt a great deal about effective business operations and I was responsible for analysing workforce needs, creating succession plans, identifying recruitment gaps, and developing positive and productive relationships with local businesses in a range of sectors. This was a busy and intense part of my career journey but I always tell myself, if it doesn't challenge you, it won't change you, and I grabbed the opportunity with both hands.
Is there one thing you wish you'd known when you were younger?
I wish I had known more about how to gain the skills and experience you need for your chosen role if you don't match every criteria on the job description (I'm sure I'm not alone in this!). I was easily deterred from applying for roles if I had the slightest worry that I might not be suitable, but looking back, I realise this was my own self-doubt rather than any lack of ability or experience. When I was younger I had no idea about careers, pathways, choices, or even who to talk to in order to get advice, there just didn't seem to be much support available. I felt pretty lost and ended up making decisions based on what I thought was the 'right' thing to do, rather than thinking about what was best for me. When I made the switch from Law to Education, I felt like I finally found my niche, and that Mrs Hewitt (my English teacher) would have been really proud. The idea of supporting people and advising and guiding them resonated with me from my own experiences, and once I knew I could match my experience with my passion and determination, I knew I had a winning combination!
Top tip when applying for jobs?
My best advice would be to put your all into every single job application. Applying for jobs can be really hard work but it's important to stay motivated and focused on your goals. Recruiters can tell if an application has been thoroughly considered or not – and demonstrating real passion for a role is so important. You get what you work for, not what you wish for, so you have to keep going, regardless of any setbacks!
What is your ultimate piece of advice?
Don't talk yourself out of taking positive steps, whether that's applying for a new role, working towards progression opportunities, or undertaking a career change. If you want it, you can absolutely go and get it. It's easy to doubt yourself in challenging situations, but if you don't believe in yourself, then no-one will. Ability is what you're capable of doing, motivation determines what you do and attitude determines how well you do it – success is not final, and failure is not fatal, it is the courage to continue that counts!
https://employability.gcs.ac.uk/wp-content/uploads/2021/03/IMG_6019-scaled.jpg
1707
2560
Better Jobs, Better Futures
https://employability.gcs.ac.uk/wp-content/uploads/2020/07/employability-x2.png
Better Jobs, Better Futures
2021-03-03 11:04:36
2021-03-04 13:20:13
Dan Parvin